02/15/2012
As I ironed this shirt for my husband last week, I found myself daydreaming about how much I love crisp white button fronts. "If only women like me could have a shirt like this," I mused, and then stopped short. Women with large busts DO have a shirt like this, and I'm the one who created it. How embarrassing to have forgotten, but after a lifetime of battles with baggy shirts that still required a safety pin at the bust, old thinking dies hard. I laughed at myself for forgetting that the war is over.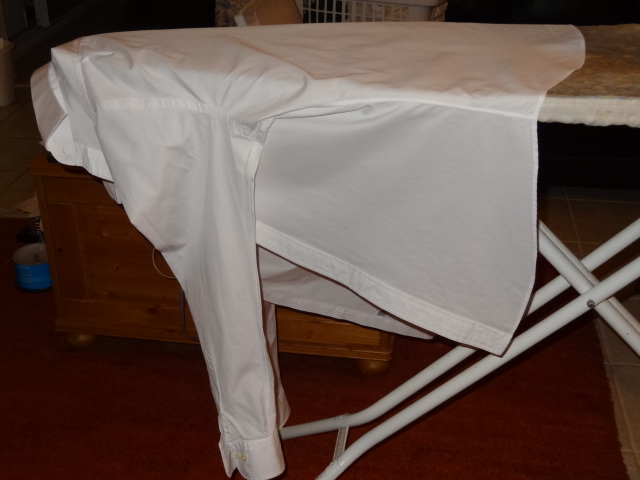 Four reasons I iron my husband's shirts after the jump . . .
He's never asked me to, and he always appreciates it. (His love language is "acts of service")
I ADORE my Reliable

Digital Velocity V100 iron

. Ironing with it is like stepping out of an economy car and into a high-powered sports car.
I choose what he wears. For instance, if it's raining or he has a cold, I choose something with color. If it's a blend-in kind of day, I'll go with pale blue. If I want him to look like the smartest, most powerful man in the room, I go with white.
If I don't iron, he might wear the shirt below, which I call his Your-Wife-Must-Not-Love-You Shirt, along the lines of "friends don't let friends drive drunk"--people who love you don't let you walk out of the house in a shirt like this. The fabric is so worn in the elbows that a hole is going to break out soon, but that's not the worst of it. When he wears it, there's a gap at the chest! Ironically, men don't mind gaps at the chest, on women oron themselves. When this shirt doesn't gap, he says, "Uh oh, I need to get back to the gym."