04/11/2012
For many of us, a camisole is the classic solution for cleavage control, but when my standby camis recently went missing, I discovered that a classic Campbell & Kate shirt is an excellent alternative. Below, I get even more mileage from an extremely deep V-neck J.Crew tissue tee by layering it over my 14L Campbell & Kate shirt.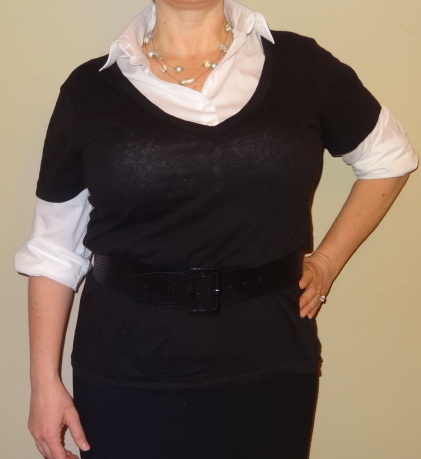 After the jump, read three reasons a Campbell & Kate shirt is perfect for cleavage duty:
Temperature control when the weather is fickle.
Because the Campbell & Kate shirt is designed to fit you perfectly, you don't need to worry about removing your top layer if you feel too warm, and the extra coverage over your arms means you don't need to carry a bulky jacket.
Intentional style statement.
No matter how they're designed, camis look like stylistic after-thoughts. If we didn't need to wear these purely functional undergarments, we probably wouldn't. A classic white shirt, on the other hand, gives a crisp, structurered look.
Streamlined comfort.
Campbell & Kate's narrow arm holes and minimal sleeve width mean that when you layer your shirt, there's no uncomfortable bunching at the underarm--a nice side benefit of a feature designed to minimize poufing next to your bustline when you wear your shirt by itself.
You may also want to take a look at this spring work wear capsule from You Look Fab for more white button front layering options.