03/13/2012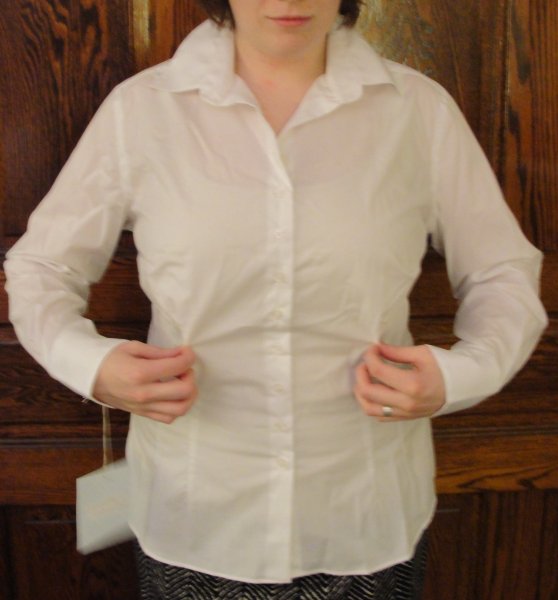 Good news for those of you who are unsure what size Campbell & Kate shirt to order--the Buy1Try3 Program is up and running. A customer who tried it last month graciously provided photos of the process, despite looking, as she described it, "like a hot wrinkled mess." Since she was our guinea pig, I'll call her "Ginny".
Here are Ginny's measurements:
Bust: 39"
Underbust:29.5"
Waist: 31"
High Hip: 39"
Low Hip: 41"
Going by the size chart alone, Ginny should wear a 10S, but she wanted to try other sizes because she said, "I'm shaped a little differently than most ladies. My apex minus my band is 10 inches, but my waist is larger than my band." (It turns out that she is NOT shaped that differently from many ladies, as a recent survey by Braless in Brasil points out.)
Ginny tried sizes 10S, 10M, 10L, 12S and 12L. Both size 12's were too baggy, as evidenced by the photo above, but take a look at the size 10's after the jump to see what size you think she should have kept. I'll tell you what size she chose at the very end.
Size 10S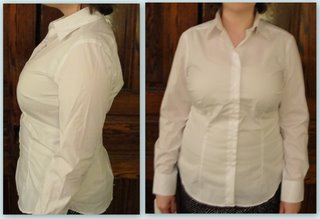 Size 10M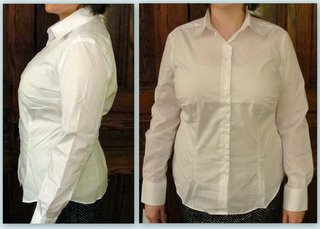 Size 10L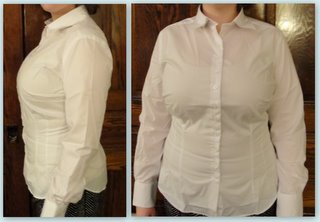 And the winner is?
Ginny decided to keep the 10M 10S.*
Personally, I prefer the 10S, but tThat's the advantage of the Buy1Try3 Program--you figure out for yourself which one is most comfortable for you. And there's no risk because the return shipping is free, with a pre-addressed return envelope included in your shipment to make the return easy.
We've recently updated our sizing chart and added a fitting tips page. Sometimes that's all you need. But if you really want to make sure you're getting the very best possible fit of all the options available to you, go ahead and try three shirts in one order.
*March 18: Just opened Ginny's returns and discovered that she kept the 10S. Great minds . . . .