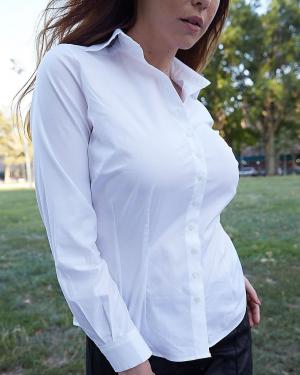 Only the best for your large chest. Using a pattern that understands a woman's curves, we cut and sew your shirt to order in New York City from stretch Egyptian cotton.
Here's how the process works:
1. Order up to three white shirts to try at once.
2. In the comments section at checkout, provide the information that we request on our sizing page.
3. Based on your measurements and fit preferences, we will send you up to three sizes to compare. (If you order one shirt, we will send you one size.) You are only charged for anything you keep after four days of receiving your order. Shipping and returns are free within the United States, and you can repeat the process until you find the shirt that's right for you.
4. If you really like the fit of a shirt but want a few changes, we can customize the following:
waist width

(complimentary)

French cuffs (complimentary)

sleeve length*

hem length*

torso length*

hip width*
*one-time fee of $10 for each customization
5. Want more colors and patterns? We'll send you photos and swatches free of charge.
$180.00