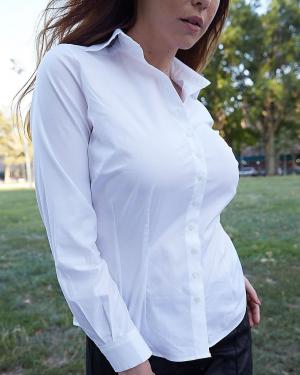 ANNOUNCEMENT:
New to our site? We're delighted you've discovered our fitted shirts for fuller busts. Right now, Campbell & Kate is only accepting new orders from current clients and in-person fittings in Manhattan.
If you'd like to join the club of confident women who wear our button downs, please reach out to our founder at dcampbell@campbellandkate.com. She'll reply with a few questions and figure out the best way to let you know when we're ready for your order.
------------
"Where have you been all my life?"
We hear this all the time from large-busted women who have given up on button downs.
Contrary to popular belief,
big boobs and button downs make a GREAT combination in a shirt from Campbell & Kate. That's because we give you enough fabric for your large bust without swamping your waist. We take the typical size system (2, 4, 6, 8 . . . 16) and specialize even further (2S, 2M, 2L, 4S, 4M, 4L--you get the idea). This way we can accommodate cup sizes from D-H, and you don't have to size up to a larger size on your top than your bottom.
Ready to become a believer in button downs?
Make an appointment for an in-person fitting in Manhattan. For new customers outside of New York City, please email our founder at dcampbell@gmail.com, and she will be in touch when we are again accepting online orders.
A few more details:
Campbell & Kate shirts are sewn one at a time by a single tailor in New York City and cost $180 in our in-stock colors of white, French blue and black. Most of our fabrics are Egyptian cotton with a little bit of stretch. Additional fees apply for special fabric orders (you'll love browsing all our swatches!) and customizations (a shorter sleeve or longer torso, for example). Shipping is free.
$180.00