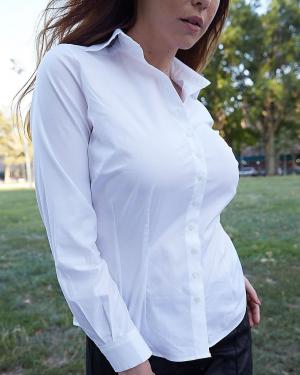 "Where have you been all my life?"
We hear this all the time from women who have given up on the crisp look of a classic button down.
Contrary to popular belief,
big boobs and button downs make a GREAT combination in a shirt from Campbell & Kate. Our shirts accommodate D-H cups without forcing you to wear a larger size on top than on bottom.
If you think "Wow!"
when you see yourself in a Campbell & Kate shirt, our mission is complete. Two factors increase the odds of success:
You wear a 28, 30, 32, 34, or 36 bra band.

Your bust measurement is 7-10 inches more than your waist measurement.
(If you wear a 38 band or higher, we will soon be updating our FAQS regarding plans for extended sizes.)
Ready to become a believer in button downs?
Join the club of confident women who wear our bust-friendly button downs through an in-person fitting in Manhattan or a remote fitting from home.
Important details:
Campbell & Kate shirts are sewn one at a time by a single tailor in New York City and cost $180 in our in-stock colors of white, French blue and black. Most of our fabrics are long-staple Egyptian cotton with 3-4% elastane. Additional fees apply for special fabric orders (you'll love browsing the swatches that we will upload soon) and customizations (look for a menu of options on our site soon). Shipping and returns are free. There is a $20 new client fitting fee for remote fittings that is credited toward your final purchase or deducted from your refund.
$180.00