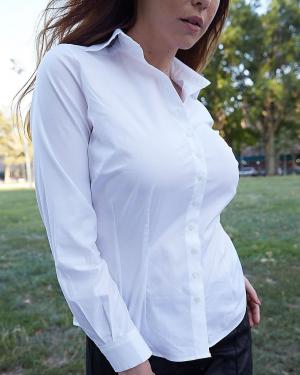 "Where have you been all my life?"
We hear this all the time from large-busted women who have given up on button downs.
Contrary to popular belief,
big boobs and button downs make a GREAT combination in a shirt from Campbell & Kate. That's because we give you enough fabric for your large bust without swamping your waist. We take the typical size system (2, 4, 6, 8 . . . 16) and specialize even further (2S, 2M, 2L, 4S, 4M, 4L--you get the idea). This way we can accommodate cup sizes from D-H, and you don't have to size up to a larger size on your top than your bottom.
Ready to become a believer in button downs?
If you're in New York City, you can make an appointment for an in-person fitting in Manhattan. If you're ordering online, here's how the process works:
1. You give us your measurements and fit preference in the dropdown menus below. It's even more helpful if you give us your bra and pants size in the comments section at checkout (including brands).
2. We send you up to three sizes to compare. If you order one shirt, we only send you one size. Use the quantity dropdown menu to specify how many shirts you want to try at a time.
3. You keep what fits and return the rest OR repeat the process until you find the shirt that's right for you. Shipping and returns are free within the United States, and your credit card is only charged for what you keep four days after receiving your order.
4. Need a few changes after you find your fit? Because we cut and sew our shirts one at a time here in New York City, we can personalize the following for you:
substitute French cuffs*

lengthen or shorten the sleeves*

lengthen or shorten the length*

lengthen or shorten the torso*

widen or take in the hips*

use contrast fabric for the collar band and cuffs*

make the waist wider (always complimentary!)

*There is a $10 fee for each personalization that is only charged once when you place an order for multiple shirts.
5. If you're looking for more colors and patterns, just ask! We'll send you photos and swatches free of charge. Most of our fabrics are Egyptian cotton with a little bit of stretch. We always have white, black and French blue in stock, and we can special order the rest. There is a fabric surcharge of $12, $18 or $20 depending on special order fabric choice.
$180.00