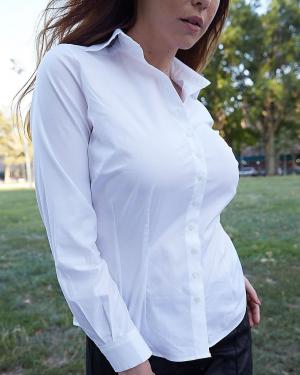 "Where have you been all my life?"
We hear this all the time from large-busted women who have given up on button downs.
Contrary to popular belief,
big boobs and button downs make a GREAT combination in a shirt from Campbell & Kate. That's because we give you enough fabric for your large bust without swamping your waist. We take the typical size system (2, 4, 6, 8 . . . 16) and specialize even further (2S, 2M, 2L, 4S, 4M, 4L--you get the idea). This way we can accommodate cup sizes from D-H, and you don't have to size up to a larger size on your top than your bottom.
Ready to become a busty believer in button downs?
Here's how the process works:
1. Order up to three white shirts to try at once.
2. In the comments section at checkout, provide the information that we request on our sizing page.
3. Based on your measurements and fit preferences, we will send you up to three sizes to compare. (If you order one shirt, we will send you one size.) You are only charged for anything you keep after four days of receiving your order. Shipping and returns are free within the United States, and you can repeat the process until you find the shirt that's right for you.
4. Because our shirts are cut-to-order here in New York City, if you really like the fit of a shirt but want a few changes, we can personalize the following:
make the waist wider

(complimentary)

substitute French cuffs (complimentary)

lengthen or shorten the sleeves*

lengthen or shorten the length*

lengthen or shorten the waist*

widen or take in the hips*
*one-time fee of $10 for each personalization
5. Want more colors and patterns? We'll send you photos and swatches free of charge. All of our fabrics are high quality stretch cotton.
$180.00