05/10/2012
As Kate and I studied my fit model wearing a Campbell & Kate prototype back in 2009, Kate had the brilliant idea of adding a seam down the sleeve to take up the "fabric arm flab" that makes a woman with a large bust look sloppy and larger than she really is.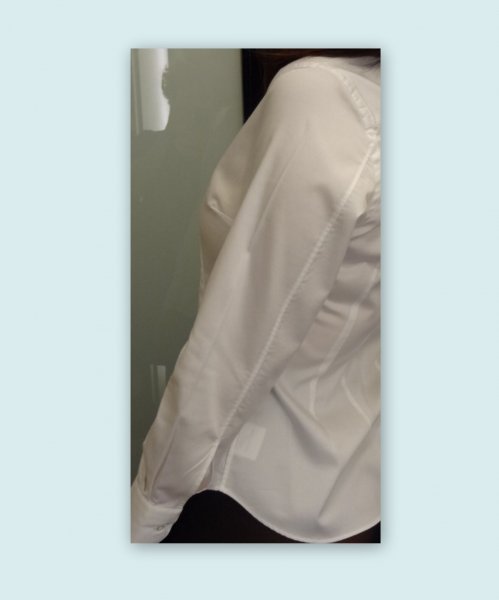 The shirt I'm wearing in the photo below is a classic example of fabric arm flab. (Of course, this shirt is also too large everywhere except over the bust, despite the waist darts that I had my seamstress add.)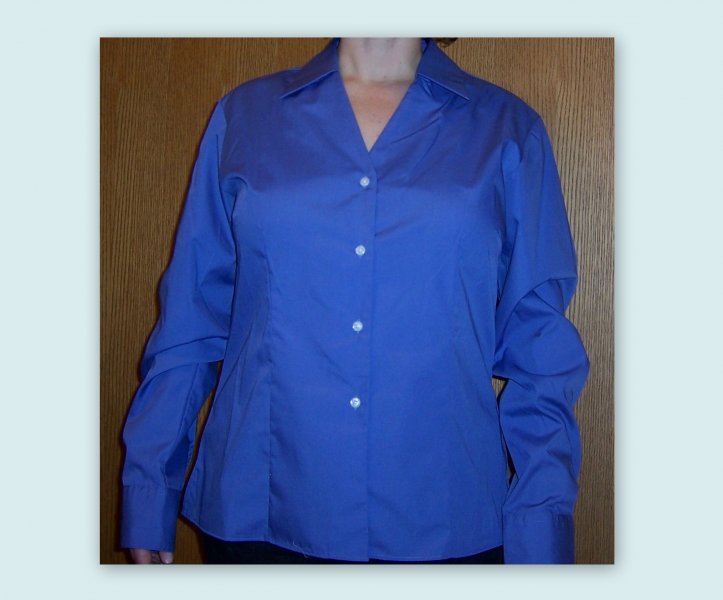 When we narrowed the sleeves, I called the design my "dream shirt" because we took care of an issue I had never dreamed of addressing. It turns out that because a narrower sleeve means a narrower and therefore higher armhole, this single design decision also addressed other important issues described below!
First, a narrower and higher armhole displays more of your frame and eliminates clutter. As Imogen Lamport explains on Inside Out Style Blog, "If you have a deeper, lower cut armhole, this will add some bulk to your chest region . . . . Alternatively, higher cut armholes visually lengthen the body, making it appear slimmer and the bust appear smaller . . . ."
See her excellent illustration below.*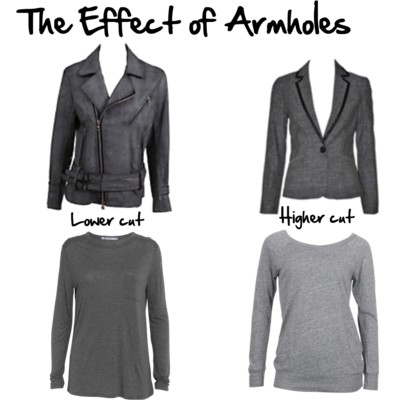 Most ready-to-wear shirts have lower armholes in order to fit more people. For example, if the bottom of a large armhole falls below the bust, then a large bust can pull some of the sleeve forward to create extra room. This explains why some sleeveless tops reveal so much of a large-busted woman's bra. The same top would also fit smaller-busted women with very large upper arms. On the other hand, a shirt that is constructed with enough fabric for a large chest allows a large-busted woman to have a slimmer fit elsewhere.
A second benefit of higher arm holes is more freedom of movement. That may sound contradictory to someone who has been wearing loose sleeves--higher armholes can take some getting used to (which is why the stretch in a Campbell & Kate shirt helps). The truth is that higher armholes allow you to move your arms without taking the rest of your shirt with you. You can see this on Campbell & Kate shirts in action beginning at 1:05 in this video and 0:44 in this video. (Keep in mind that the extra pouf of fabric found over some of the women's shoulder blades has since been eliminated.)
A third benefit is one that I recently mentioned in my post on layering: streamlined comfort. If you've ever tried to fit a baggy shirt sleeve under a narrow blazer sleeve, then you know what I'm talking about: a big ball of fabric under your armpit. A Campbell & Kate shirt will fit comfortably under any jacket, whether it has a large and low armhole or a high and narrow one.
When people ask me what makes a Campbell & Kate shirt so special, I point to the narrow sleeves as an example of how thoughtfully we have addressed the concerns of women with a large bust. My listener rarely responds with the enthusiasm that I think a feature like this deserves, but it's understandable. After all, it took a while for the benefits to dawn on the shirt's own designer! But when a woman with a large bust wears a Campbell & Kate Signature Shirt and wonders why it feels so great and makes her look so amazing, the details in this post begin to make sense.
*Imogen's illustration also demonstrates the advantage of a lower neckline. Fortunately, the button placement on the Campbell & Kate Signature Shirt gives you plenty of options. Just a few open buttons will make you look smaller without making you look like you're ready for happy hour.