02/06/2012
In Part 1, the key word was "discretion". Today's word: creativity.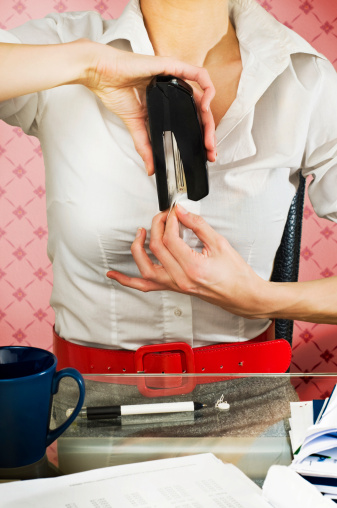 Actually, if you're a woman who wears a D cup or higher, you don't have to be that creative. You need only wear your Campbell & Kate shirt. Other women who wear a D cup or higher will tell you how amazing you look, and you will simply tell them where to find us.
But for situations where you must do the approaching, here are three ideas to get you started:
Invite me to lunch with you and your friend (if you're outside of CT, NJ or NY, contact me to find out when I'll be in your area); after your friend asks what I do for a living, she'll say, "I need a Campbell & Kate shirt!" (I'm only partly joking here. I LOVE going out to lunch and meeting interesting new people, and I promise we'll have fun.)
Request the same card that I sometimes hand to strangers right before I run out of the subway at my stop. You can either place it on her desk, or you can ask me to mail it to her directly. (Don't worry--it isn't the same one that I handed the speaker in Part 1.)
Sign up for the Campbell & Kate newsletter and forward it to her.
What would you add to this list?