11/29/2011
Last week I sent out a newsletter featuring the photograph on the left and then went to meet my 8M fit model. I asked if she'd seen the newsletter. "Yes," she answered," but you should have used a larger model instead of a tiny girl who can fit into anything." I tried to explain that I had used a larger model, but she didn't believe me.
So for all you doubters out there like my fit model, I give you the photograph on the right.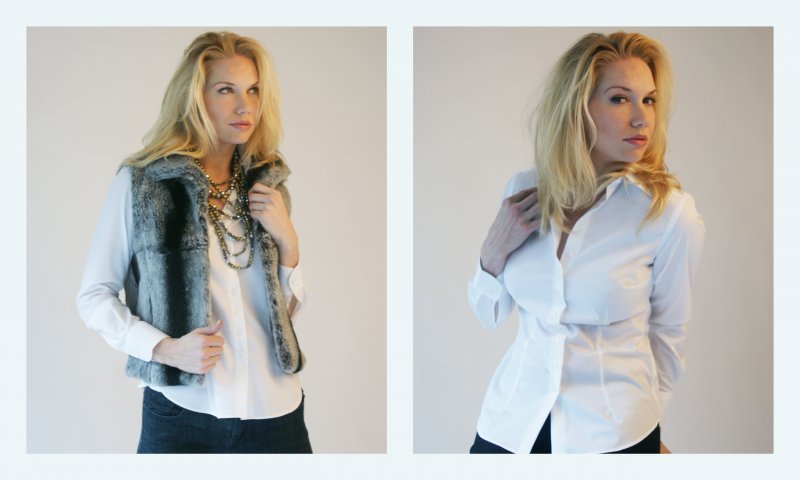 What bra and shirt size do you think she's wearing? I post the answer after the jump.
This model is wearing a 34D bra (although she would probably do even better in a 32E or 30F), and she was overjoyed to fit a Campbell & Kate shirt in size 6S.
Many of you can relate to being misjudged like this, can't you? When you're blessed with a small back or band, everything else about you looks small, including your D cup (and up) bust. That's why you can often get a shirt to cover your bust by sizing up just a little bit. The problem with that solution is that you end up with a baggy back. You don't need extra fabric for your back--you need it for your front! It's an exasperating myth that a big bust size means a woman is also big everywhere else.
It goes without saying, but I'll say it anyways since this is the Campbell & Kate blog: you won't run into this issue with a Campbell & Kate shirt because we've removed the extra fabric through strategically placed darts to accommodate the full bust. In fact, there's so little extra fabric around the waist and back that you may need to go through an adjustment period in wearing a Campbell & Kate shirt. I did. I now stand taller in my own Campbell & Kate shirt because I can no longer hide under all the extra folds that used to cover me.
The reason I chose the photograph on the left was not to emphasize the model's size but to showcase the blank canvas that a white shirt can be for expressing your own style. I love this look, and it inspires me to try new things.
What about you? How would you accessorize a classic white shirt?