01/20/2012
This warning sign should come with Campbell & Kate shirts.
That's because, although most women with a large bust adore the way they look in them, a few are shocked to encounter their own curves. It's easy to understand why. Many ready-to-wear garments drop straight from the widest part of the full bust straight down to the hem, hiding the waist. When this freefall is tailored, the waist and bottom half of the bust are revealed. See what I mean after the jump.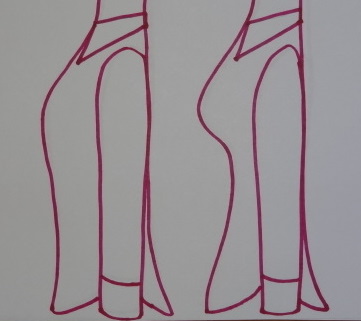 Initially, this can be disconcerting. For one thing, less empty space between abdomen and shirt means less temptation to overeat. In fact, a woman is more likely to hold her stomach in and watch her posture while wearing a Campbell & Kate shirt. That's a good thing, but for the woman who has always hidden her D cups (and up), removing all that extra fabric can feel like removing a security blanket.
If this describes you, it's okay to proceed cautiously. After all, you'd slow down before beginning an extremely winding section of highway. Once you get used to seeing your actual shape, however, you can learn to navigate it. That's when you can have as much fun getting dressed in the morning as you would driving down this mountain pass.