09/14/2011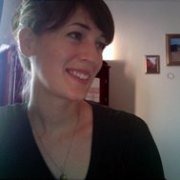 Whenever I introduce the company to someone, they inevitably ask, "Who is Kate?"
Kate Hoover isn't an official founder of Campbell & Kate, but she has been a part of its development since Kathleen Fasanella introduced us by email on July 19, 2007. She came to my meetings with patternmakers and graders and gave me trusted feedback afterward. She lent me her technical books. She suggested improvements to the design (the narrow sleeves were her idea) and helped me work through the seemingly insurmountable sizing issues that arose during the process. I sometimes doubted that we could create my dream shirt, but Kate never did.
Kate's combined social vision and technical expertise have made for inspiring conversations. It makes sense when you consider her background: a sociology degree from Barnard College followed by fashion design courses at Parsons.
I'm lucky because one of Kate's passions is well-fitting clothing for women with small backs and large cup sizes. She discovered this passion while developing her own lingerie line.
I'm also lucky because her first name goes so well with my last name, hence "Campbell & Kate"! Someday, if I'm really lucky, she will be a permanent part of the company.
(Now that you know who Kate is, some of you might be wondering, "Who is Campbell?" You can learn about me on Hourglassy, my blog that shares resources for full-busted women and describes the process of creating Campbell & Kate shirts.)