07/21/2011
A lot of women tell me, "I've given up on button downs. I just can't get them to work." I understand because that used to be me. At one point, I thought I'd found the perfect solution in knit shells from a certain manufacturer, so I populated my wardrobe with every color they offered.
Yet I continued to long for a well-fitting, crisp, white button front. One reason is my weakness for the men who wear them--they look so strong and authoritative in them. Knit shells have their place, but I've never seen a man looking strong and authoritative in one.
Knits emphasize our femininity, and if you're full-busted, they emphasize it a lot. A woven shirt, on the other hand, leaves something to the imagination, but if it fits well, it won't leave too much.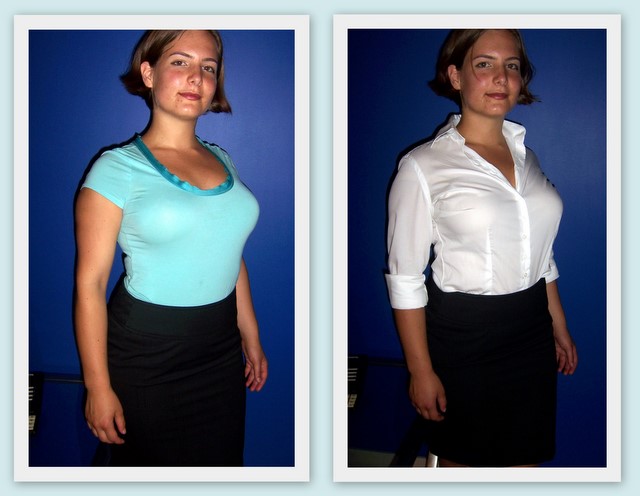 Zoë's look on the left is very nice, but for a long time it has been one of the few available to women who wear a D cup bra or higher. I'm happy to report that this is no longer true. Today when women tell me that they've given up on button downs, Zoë's look on the right (she's wearing a Campbell & Kate Signature Shirt in 4M) is proof that they don't have to.