10/24/2018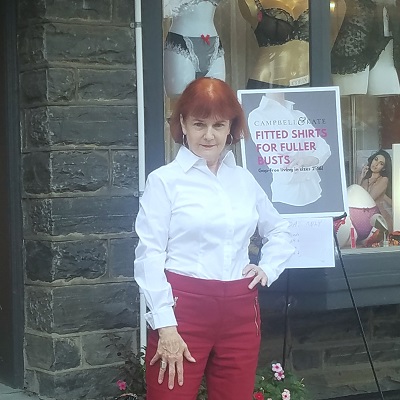 Here's one more reason we love in-person fittings: this 71-year-old "model" from our recent Bra Spectrum pop up. When we asked her to pose for social media, she turned on the power!
A classic white shirt amps up the power. Sometimes we struggle to put this phenomenon into words, so we were delighted to discover Brenda Kinsel's take on the subject. She may be talking about age, but we think anyone with a large bust can relate:
Why I consider white shirts to be perfect for modern women

I'm in the third chapter of my life as are most of my clients and we're smashing rules and limiting expectations of what women our age are all about. That third chapter includes frisky women from fifty to seventy-five-years old.

More than anything, I do not want women in this chapter to be overlooked. Lots of fashion geared to this market has gotten super relaxed, too relaxed in my opinion. Much of it is oversized and drapey and lacking structure. I think many manufacturers are looking at us and thinking, Well, they're into comfort. We'll just give them shapeless clothing with elastic waistbands. They'll love it.

When there's a complete lack of structure and things are shapeless, women wearing them lose visibility and I won't stand for that! What I like about a white shirt is that you can put it with flowy things, build in some structure, create a frame for the face, and bring attention to that marvelous woman over 50. Visibility wins!

You can still wear loose garments. I love the look of a white shirt with a cascading cardigan (like I wore in the very top photo). You get some structure and framing while enjoying soft draping fabric as well. It's a great balance.

I also love how a white cotton shirt doesn't cling to the mid-section like a knit T-shirt does. Who loves the idea of non-clinging fabrics besides me?
Large-chested women haven't had to wait until the third chapter of their lives to feel overlooked in clothing that is "oversized and drapey and lacking structure". Chances are, you've defaulted to these garments ever since you grew large breasts. Style books everywhere advise women with big busts to wear drapey fabrics. Yet there is no substitute for the "presence" that a crisp collared dress shirt gives its wearer.
You are meant to be seen no matter your age or bra size, and our shirts are here to make that happen.