07/11/2017
Here's a guilty secret: we asked lingerie store Bra Spectrum to host our June pop up shop because we have been wanting to try their hard-to-find brands for years. So between bust-friendly shirt fittings for our large-chested customers, we had our own fittings into the amazing bras of Corin and Nikol Djumon. Manufactured in Poland and Latvia respectively, these two brands are worth a trip to any store that carries them.
You can tell that Corin is serious about bras for large busts because they provide their very own busty mannequin to display them. Of course we're super proud that our size 12M fits her!
Both companies produce their version of a spacer bra that is slightly minimizing and produces a seamless look under our classic dress shirts for large busts. If you're looking for the security of fuller coverage, we recommend the Corin Virginia (on the bottom).
If you prefer a more lifted profile, we recommended the Nikol Djumon spacer.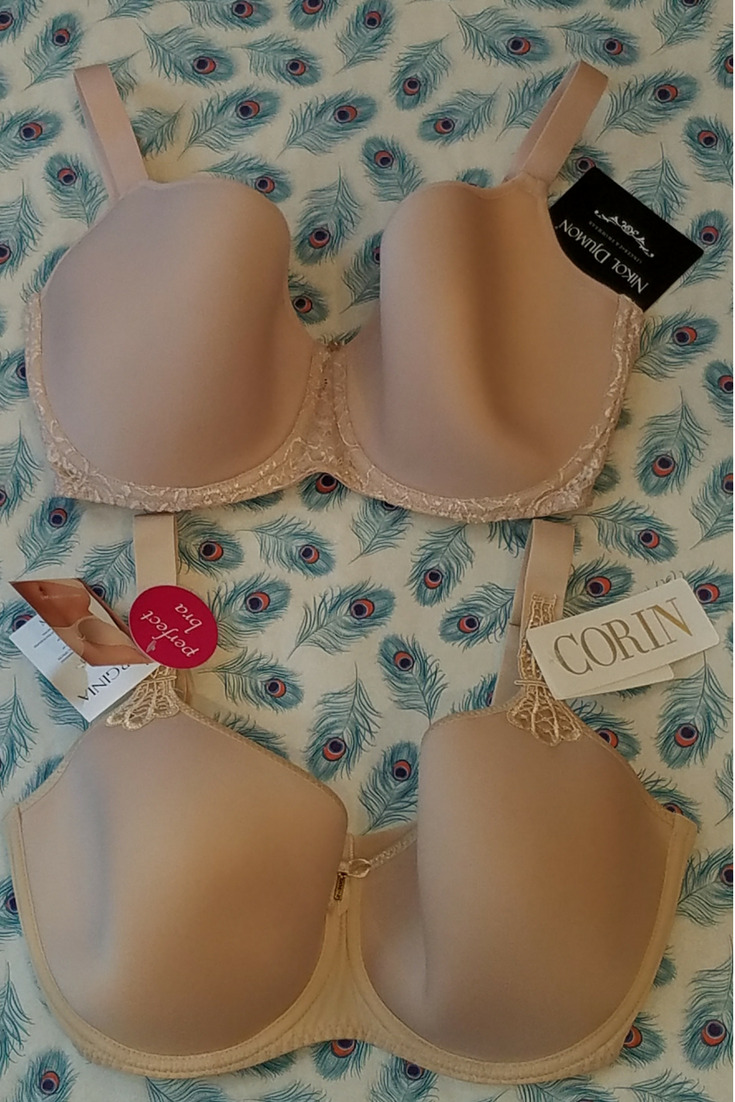 Of course the real artistry with these bras comes from their seamed styles. We tried two of the Corin semi-soft cup bras. "Semi-soft" simply means that the bottom panels are foam-lined. This extra structure at the base creates an excellent lift without the bulk of a padded bra. We tried the Rosa first and thought it was great—until we tried the Jacqueline and fell in love.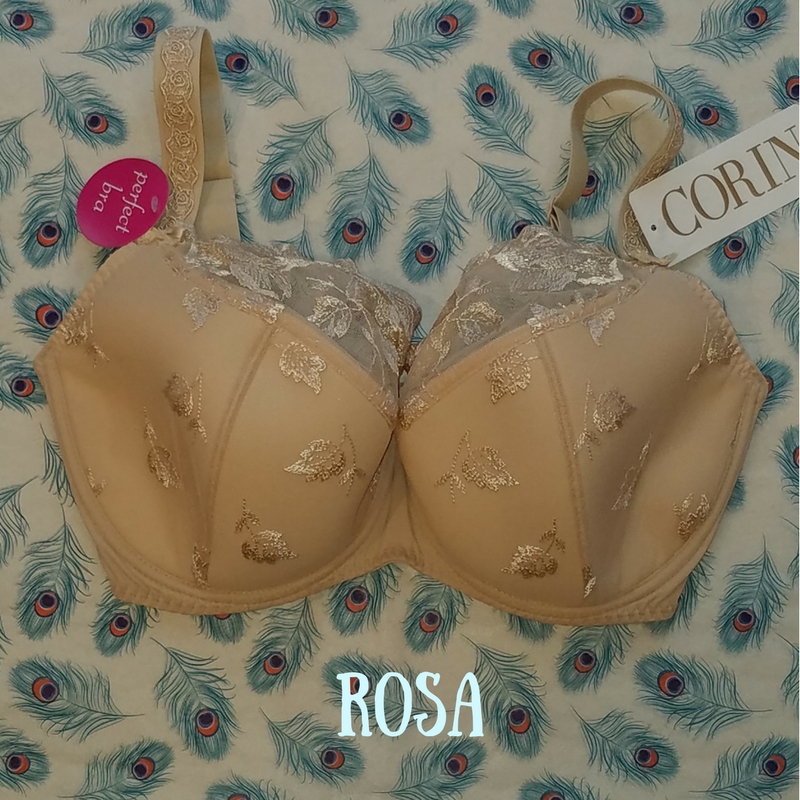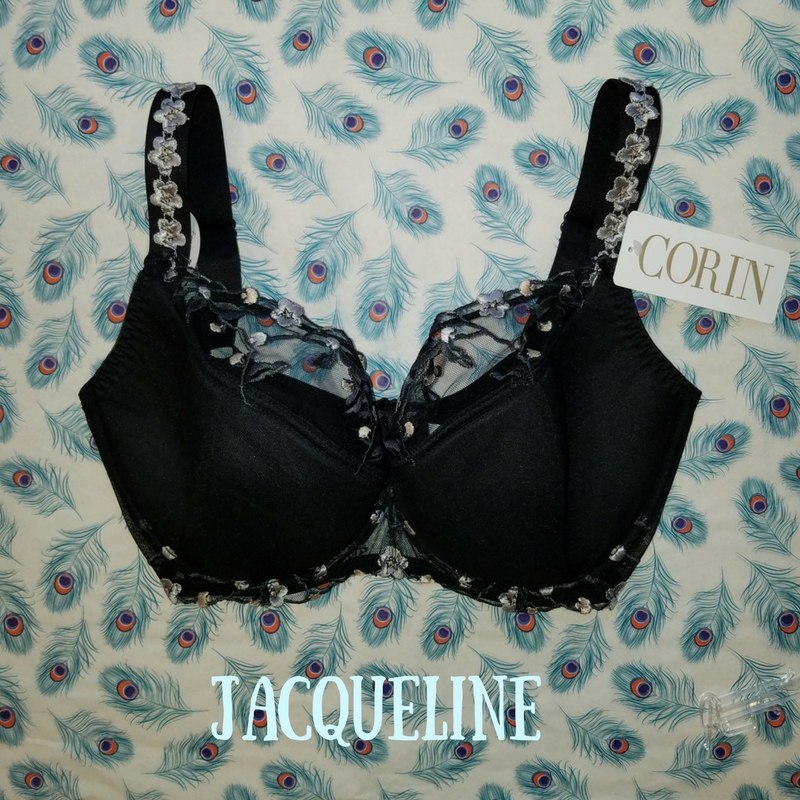 The Jacqueline felt more secure and looked more slimming. It's a mystery why. The only apparent difference in construction is that the angle of the seam down the middle base of the Rosa cups is at a 45 degree angle, while the seam down the Jacqueline cups is at a 15 degree angle. We also prefer the Jacqueline's delicate lace top panel and the pretty flower-lined straps.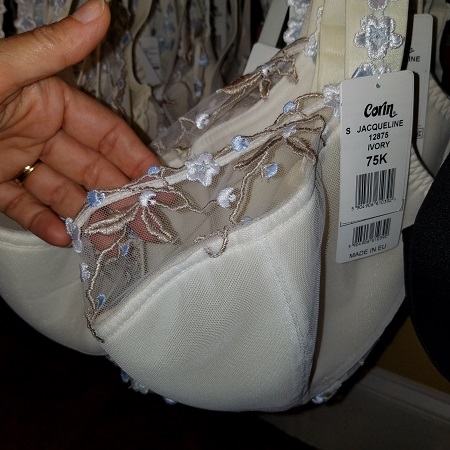 The good news is that both of these styles (in black and ivory) belong to Corin's "classic" collection, which means they are available continuously. The Rosa is available to a J cup, and the Jacqueline to a K. By the way, the 75 in the above image is equivalent to a 34 band.
Finally, Nikol Djumon offers two pretty soft-cup bras up to an H cup. The side profiles in these bras is slightly less rounded and lifted than the Corin bras, but both feature a generous solid side panel that helps to center the breast tissue. The remainder of the Evelen cups (below) is composed of gorgeous embroidery on tulle.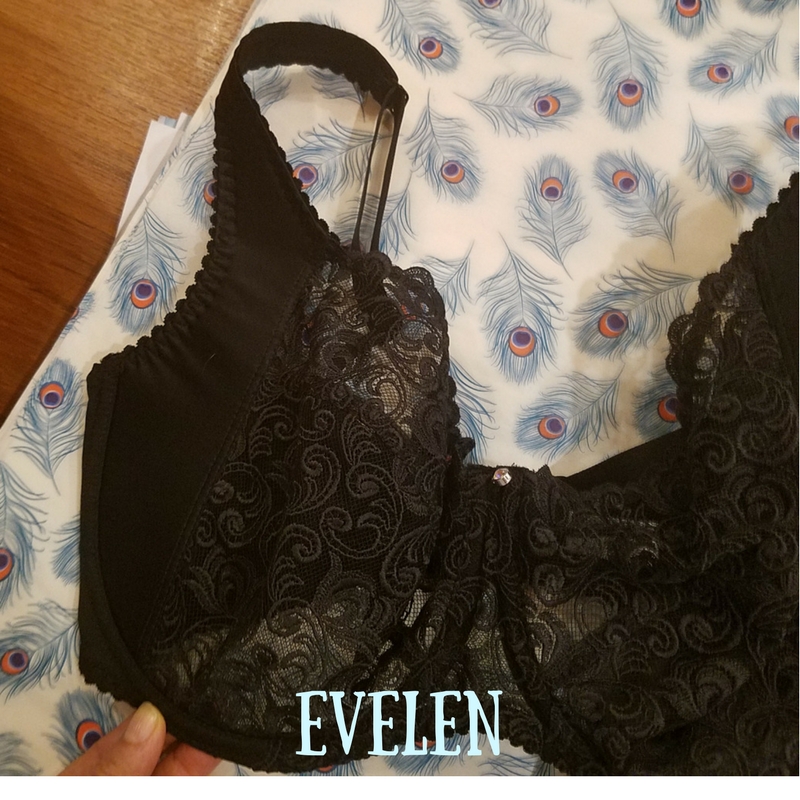 The lace of the Viktoria is found only in the upper panel. However, the Viktoria also features wider and padded straps and comes in colors like navy, red . . . and the teal that you see replaced our shirt in the window after our pop up shop ended!