09/06/2017
When you send us your measurements and bra size, we love sending you a bust-friendly shirt to fit. But when your waist measures 33" or less and you tell us you're wearing a bra with a 36 band, we wish we could send you a new bra, too!
That's because your band is probably too loose, and in this post, we explain why a loose band is a bad deal for a big bust. We run into this so often that we bring a range of bra sizes to in-person fittings for our button down shirts for busty women.
Here's the difference that the right bra made for a recent full-busted customer with a 31" waist and a 40" bust. In both photos she's wearing a size 8L shirt. The only difference is the bra. By switching from a 36DD to a 32G, she didn't have to go up a shirt size!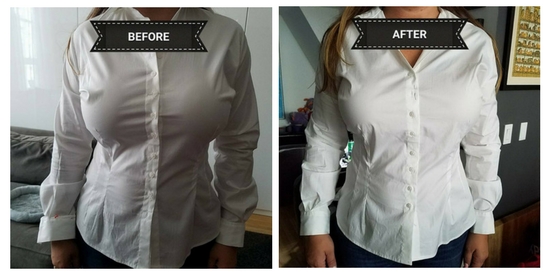 Victoria's Secret and most department stores don't carry the small-band-large-cup combination that fuller busts need, so if we can find a reputable lingerie store in your area, we'll tell you about it. Unfortunately, sometimes the closest store with a good bra fitter for a big bust is hours away.
UPDATE: Originally, this post recommended My Bra Concierge, which has since closed its doors. Keep watching this space for our new go-to for best remote bra fittings. SEE THIS POST for why we now recommend Lion's Lair Boutique!
That's why we're thrilled that My Bra Concierge, the online bra startup that we wrote about in May, is now live. We recently tested their service and came away with great-fitting bras we never would have tried otherwise. Here's why we're happy to recommend My Bra Concierge to our customers:
They have a strong inventory of good brands for big busts.

Both founders grew up in small towns with limited bra shopping options for their own large chests, so they're passionate about giving great-fitting choices to others.

They do the thinking for you. There's no need to study the differences between brands and styles because they've already done the research. For example, they sent us a smaller cup size in a brand that is known to run large.

They keep everything simple. All you have to do is answer survey questions, receive the bras, try them on, and keep or return them in the already-labeled envelope included in your shipment.
My Bra Concierge is still in its early stages, so you may encounter a few quirks as you answer their survey questions--sometimes we had to answer with a best guess, but they still managed to send us bras that fit. We've found My Bra Concierge to be very responsive to questions and eager for feedback. Even better, our blog readers and customers can use discount code C&K17 to waive the fitting fee!