01/30/2013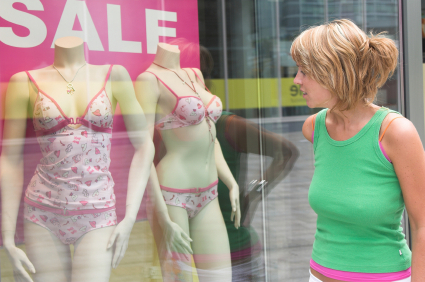 If you've read my last two posts (about the effect of bra fit on clothing fit and how to tell if your bra fits) and can relate to the need of the woman in this photo for a well-fitting bra, you may be wondering, "Where can I find a good bra fitter?" I can't tell you exactly where your best bra fitter is, but I can tell you how to find her.
1. First, click through to the store locator pages of these established full bust brands.
If a store has at least one of these brands, there's a good chance their fitters aren't putting every large-busted customer into a 36DD. However, you should call ahead to make sure they carry the full range of bands and cup sizes. It's also a good sign if a store sells any of the following brands in addition to those listed above: Chantelle, Curvy Kate, Conturelle, Elle Macpherson, Empreinte, Fauve, Fraulein Annie, Kris Line, Love Claudette, Parfait by Affinitas, Simone Perele, and Wacoal.
What if there's no brick and mortar store near you and you're not traveling to a city with one soon?
Then schedule a Skype consultation with the highly regarded Butterfly Collection. Contact Lion's Lair Design. They're able to fit women remotely based on years of in-person fittings.
2. Once you've found a store with promising inventory, check out their Yelp reviews to learn about the store's culture. It helps to know ahead of time if you'll be dealing with a gruff genius with blue hair, a commission-hungry saleswoman, or a gentle earth mother. It's even better if you can find the actual names of fitters to request or avoid.
3. Do your homework. To bring out the best in your fitter, review Erica's article about how to prepare for a fitting, and study Mia Rose's post about how to make sure the fitting you receive is a good one (the English version begins halfway down the page), as well as Sweets' criteria for a good fitting experience. Keep in mind that regardless of the fitter's personality, your goal is to walk out of the store with a bra that fits, and it's the fitter's job to bring you enough bras to try on to make that happen. Ideally, she will enhance your understanding of fit and build your body-confidence, but if she can't, remember that you belong in the driver's seat (easy to forget when you're standing half naked in a dressing room). Ask questions until you're satisfied with her answers, and ask the other fitters, including the store owner, to share their opinions.
4. Rinse, repeat. No matter how much you liked the fitter, do not tear the tags off your new bra until you've been able to wear it around the house for a few hours to make sure you agree with the fit. Even then, it's often not until you've worn your new bra for at least a week that you will know for sure if your fitter was a good one. If at that time you notice the band isn't snug anymore or you can't duplicate the fit she showed you in the dressing room, repeat the above steps. However, if you return to your original fitter and she happily adjusts the band or gives you a refresher course on how to achieve the perfect fit in the bra you purchased, you've found a keeper.