01/29/2015
If you've ever begun a new hobby that requires a special wardrobe, you know how hard it is to start from scratch. The first time I learned to ski, I panicked more about finding the right layers to wear than I did about how to keep from sliding off the bunny slope.
What-to-wear panic is even worse before a job interview, especially for the woman who hasn't had years to build her professional wardrobe. Without the right basics in her closet, she might as well be taking a chairlift to the top of the mountain in jeans and gym shoes.
New York City has a closet for the woman in this situation. Thanks to a non-profit called Bottomless Closet, an economically disadvantaged woman who has an interview lined up and an agency referral has access to the amazing boutique that you see below.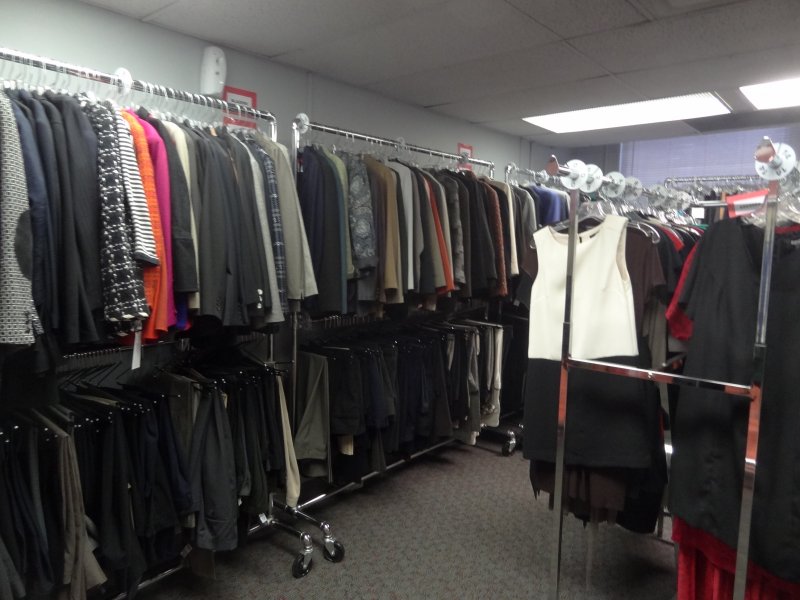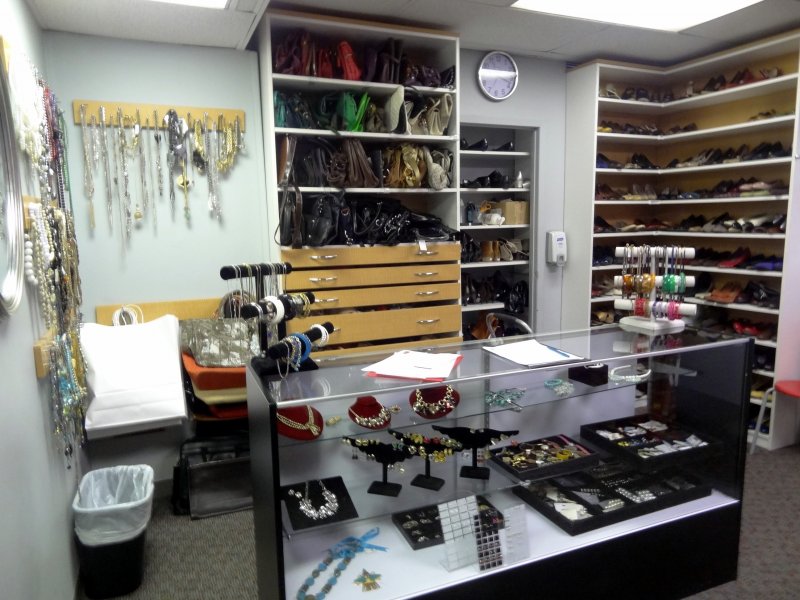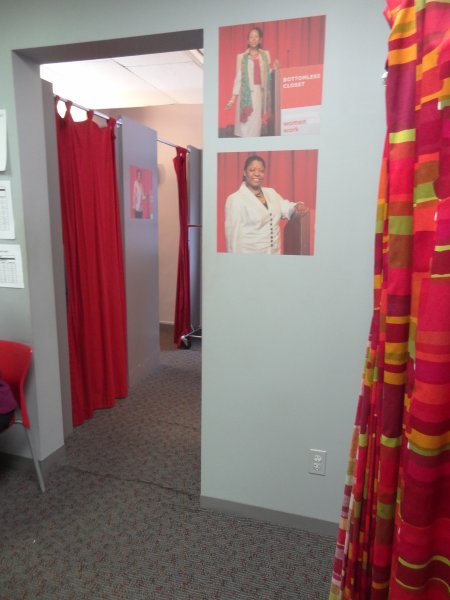 After hitting the racks, a volunteer like Beverly (in the picture below) will go over her resume and provide interview coaching. If the resume needs any changes, in-house "Resume Expert" and Program Assistant Paola Hill makes them for her.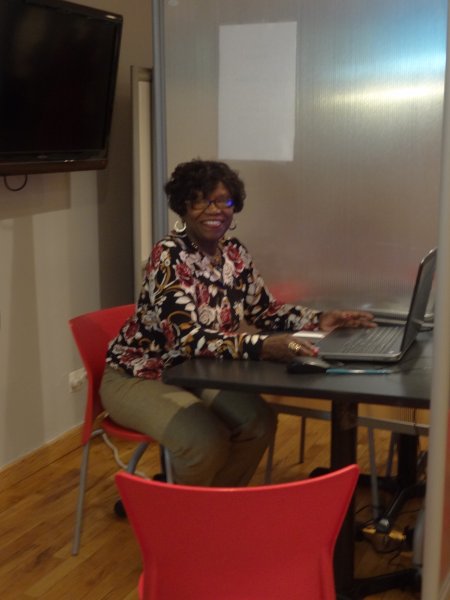 By the time the Bottomless Closet client leaves, she's equipped with a complete interview outfit, a hard copy of her resume, and a flash drive with her resume on it.
The relationship doesn't end there. Once she gets the job, she can return for post-hire coaching and three more outfits suitable to her new workplace.
If you're wondering how you can help, here's what I learned when I met with Stacey McFadin, the Director of Volunteerism and Partnerships, a few weeks ago.
1. Clothing donations are always welcome.
If you have any doubts about whether something is work-appropriate, send it in and let the volunteer sorters decide for you. If they can't use a particular garment they will pass it along to someone who can.
This past year the non-profit analyzed its 700 most recent clients and discovered that the average Bottomless Closet client is indeed the national average--she wears a size 14. The second most requested size is 16, followed by size 12. Armed with this information, Bottomless Closet now purchases larger sizes in bulk.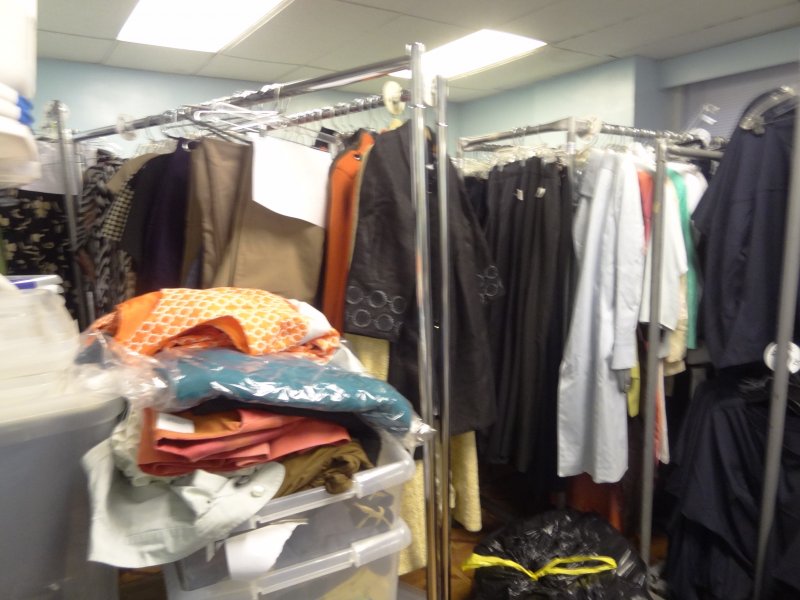 You can see some of the bulk trouser purchases in the picture of the intake room above. You can also glimpse a gorgeous Akris Punto jacket in the foreground. Bottomless Closet sells couture donations through high end consignment shops and uses the funds to fill gaps in its inventory.
If you donate something impractical but in the right size range, it could also end up as part of Separates Night! That's a night when Bottomless Closet clients who have attended workshops can "shop" the boutique for fun wardrobe additions.
2. Donate goody bag items.
When a client leaves her appointment, she's given a goody bag with bath and beauty products. Why not share your unopened makeup, nail polish and toiletries with Bottomless Closet's clients? Ms. McFadin told me that Bottomless Closet especially needs hair products and makeup suitable for its African-American clients.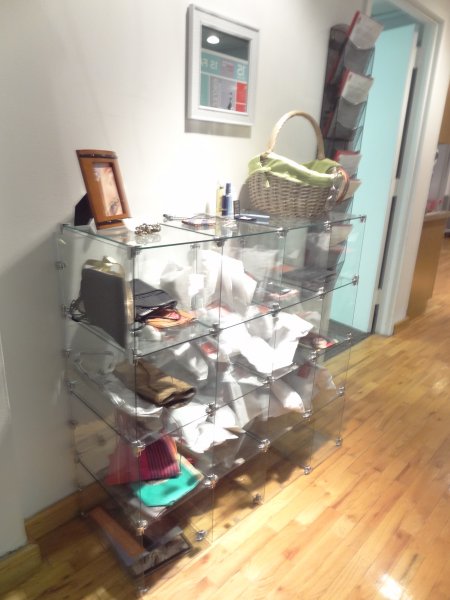 3. Volunteer.
You don't have to be a professional image consultant to help a woman pull an outfit together. When Ms. McFadin started volunteering, she was more interested in helping clients with their interviewing skills. Then she found herself enjoying the challenge of figuring out outfits like the one on the mannequin below.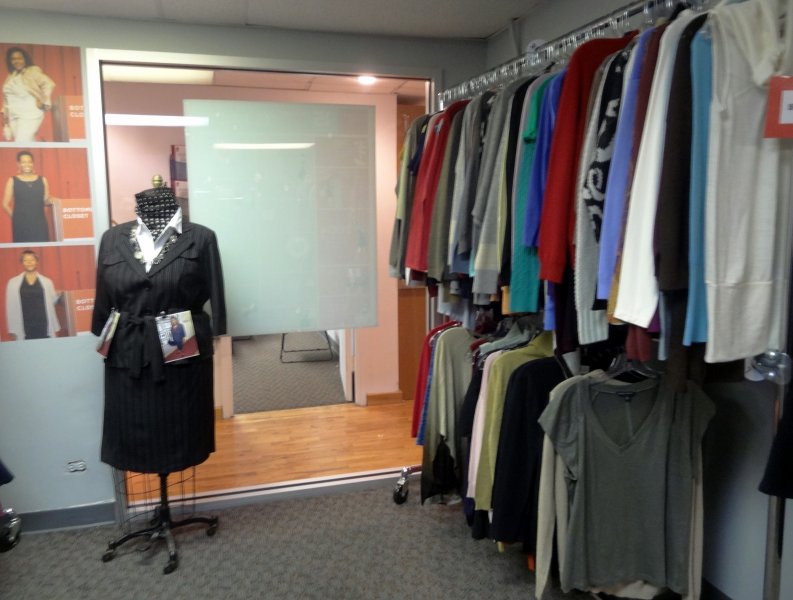 You may even want to volunteer to lead a workshop. In fact, I'm going to lead a workshop in May called "D+ Dressing without Stressing"!
4. Spread the word.
That's what I'm doing with this blog post. You can also:
There are so many things we as individuals can do to help, and I'm dreaming up more ways that Campbell & Kate can help as a company.