08/10/2011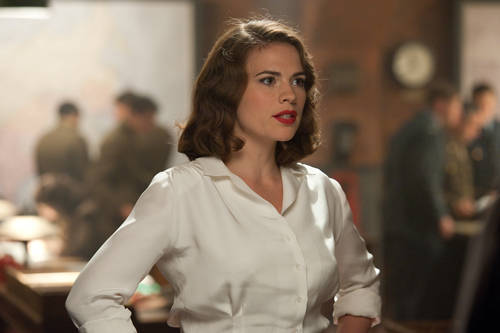 I really enjoyed Captain America last Saturday night, and there's been a lot of press about Chris Evans' chest. It transforms from "scrawny to brawny" in a matter of seconds.
However, I was more interested in the chest of his co-worker, Hayley Atwell. In one scene, she looks stunningly voluptuous in a red dress by costume designer Anna Sheppard (see below). So when she showed up in this white shirt in the next scene, I had two questions: (1) what is Atwell's bra size, and (2) how is her shirt not gaping?
The answer to question 2 is clear from this photo. Sheppard put gathers along each shoulder to supply enough volume for Atwell's bust, and she cinched it at the waist with darts. The answer to question 1 is less clear.
According to my Google search results, Atwell is either a 36C or a 36D. I say no way, although I've been wrong before. My theory is that Atwell is either not revealing her true size to the world, or she doesn't know it. I wouldn't be surprised if it were the latter. Many women don't realize that cup sizes exist beyond a D. I believe she is either a 32E or 30F.
At a Campbell & Kate trunk show last month, I explained to a customer that my shirts were for women who wear D cups and up.
"Oh," she answered, "that's not me! I'm a C cup."
She agreed to a bra fitting, however, and lo and behold, she was not a C cup. In fact, the Campbell & Kate shirt in size 8L fit her like a dream. She purchased it after her teenage daughter confirmed that it looked fabulous on her.
The customer wasn't the only one to learn something that day. I learned not to assume that every woman I introduce my shirts to actually knows her true bra size. A woman who thinks she's a C cup can still look and feel amazing in a Campbell & Kate shirt (although she'll look and feel even more amazing if she's wearing the right bra).