08/28/2012
Question:
What two things do Angela Merkel and Sofia Vergara have in common?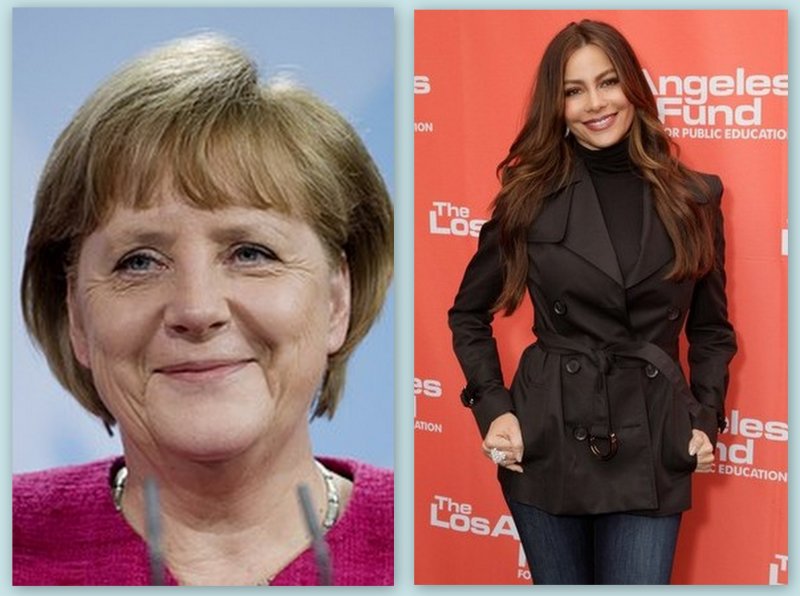 Answer:
Both (1) are on the latest list of The World's 100 Most Powerful Women, and (2) wear a D cup bra or higher.
Are there other women on the list who wear a D cup or higher? I couldn't tell from the photos, and if I didn't have outside knowledge about Merkel and Vergara, I wouldn't be able to tell from their photos either. Here is the apparent criterion by which the women's images were chosen: the least possible display of femininity. Of all the Sofia Vergara images available on the internet, Forbes found the one that successfully hides 99% of her physical assets.
I understand focusing readers' attention on the women's accomplishments rather than their appearance. How exasperating was it when critics faulted Gabby Douglas for her hair after the16-year-old gymnast won Olympic gold last month? I bristled when I read Merkel described as "the frumpy hausfrau who leads the German Government".
However, since this is a list of women, it's startling that the overall effect of the images is masculine or, at the very least, gender neutral. One reason may be that 75% of the women on this list are in their fifties or older, which means they began their careers during the power dressing eighties. Once a work uniform is established, it's very difficult to change. However, even women entering the workforce today are encouraged to lead and think like men. Since men don't have curves, it's not surprising that some women take extra precautions by hiding theirs.
It will be interesting to see what happens to corporate and political dress codes when women stop trying to act like men. In her piece about female leadership, Cheryl Isaac concludes, "We need women who are comfortable with leading from a place of authenticity." Of course, perhaps nothing will change as far as dress is concerned. Maybe you can relate to her co-workers that she describes in the comments:
I remember being in the financial industry while I was an employee, and walking in to turtlenecks and black suits. I started dressing like that too, until a few months later. Then I grew tired and started wearing light colored suits and some fashionable heels because it helped me feel more at ease and more upbeat (which is important for a sales environment). I was an oddball at first too; until they took a look at my sales numbers. But another thing I noticed that I took for granted, was that some women were just wearing those clothes because dress clothes weren't their thing. They were constantly asking for clothing recommendations. Sometimes we found ourselves picking up stuff during lunch.That was an eye-opener for me.

My mantra is: do what works for you. If it's the "man-looking pants" that works for some women, then bravo. If it's the feminine clothes (as long as it's professional and not an eye sore) then why not? It's "easier said than done" to most people, but we all still have choices.
To be honest, there's one reason that I actually find Forbes' disappointing photos reassuring: very few of the women are model-gorgeous and perfectly put-together. Women face a lot of pressure from others, but we face even more from ourselves. It's difficult enough navigating a world where we are "not entirely welcome" (as commenter Alison Monahan put it in her comment to the above article), but we make it even more difficult when we expect to do it in 4-inch heels, wearing our best colors at our ideal weight . . . all the time.
Along these lines, you'll appreciate this excerpt from Terry Gross's recent interview of Caitlin Moran:
I just wanted to be smooth and thin and have [. . . ] beautiful glossy hair and lovely clothes and be able to walk in heels. And I thought that once I did all of that stuff that my life would begin. And so I remember getting to about 28 and 29 and still really realizing that I subconsciously thought that, that when I was perfectly smooth and perfectly thin with perfect hair and beautiful outfits and I could sort of spring out of bed and just put on a beautiful kind of beautifully tailored skirt suit and pick up my massive clutch bag and put on my heels and go down and drink half a cup of coffee before going, must dash, and getting into a cab [. . . ] that would be the point where my life would begin. And just realizing I was never going to do that even one day ever, let alone that be my life. And I think loads of women have this idea that their life is going to start at some point, once they've busted all these problems of being a woman, once we're thin and we're pretty and we've got all of our clothes and stuff and we're fabulous, that's when our life will begin.
Recently I posted a photo on Facebook of a young mother in my neighborhood pushing a stroller and wearing a classic white shirt, followed by this text: "Personal style doesn't have to take a back seat to a new baby's needs when you have a classic white shirt in your closet. It's an easy way to look sharp and fresh no matter how little sleep you got the night before."
A follower spoiled my little fantasy when she commented, "Obviously that baby doesn't have reflux, LOL. I could never dress like this with two of my kids." The intrusion of reality annoyed me, but I appreciated her countering the unwritten expectation behind my post: "You must do everything perfectly and look good doing it. Other women can, so why not you? No excuses."
If anything, the Forbes photos alleviate this pressure, as do other photos taken of the women elsewhere. Consider this amazing rainbow of jackets worn by Merkel as Germany Chancellor.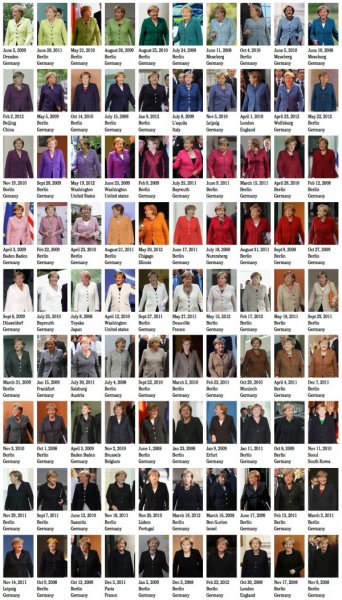 For a clearer view, go to the Yes I Like That blog. Only a few of these jackets actually flatter her. (My favorite is row 3, column 6; I also like row 1, column 10; row 4, column 8; row 5, column 2; and row 9, column 5.)
But guess what? Merkel is at the pinnacle of power whether her jackets flatter or not, whether others approve of her haircut, and even if she isn't wearing the best bra. She hasn't waited for life to begin while she perfects each of these details. If she had, Germany would be looking to an entirely different leader today. Instead, the world is holding its breath to see how Merkel will lead Germany and the European Union through the latest financial crisis.
I haven't overlooked the fact that Sofia Vergara actually is model-gorgeous and perfectly put-together. Forbes highlights her influence in the Hispanic marketplace, but I'm drawn to her as a curvy role model. Vergara not only accepts her large bust; she celebrates it and encourages all women to do the same with their own physical assets.
Somewhere between the buttoned-up Merkel and the cleavage-friendly Vergara, there is a way for each of us to express our femininity.