09/05/2012
"When a woman says, 'I have nothing to wear!' what she really means is, 'There's nothing here for who I'm supposed to be today.'" Can you relate to Caitlin Moran's statement in her book How to Be a Woman? I sure can.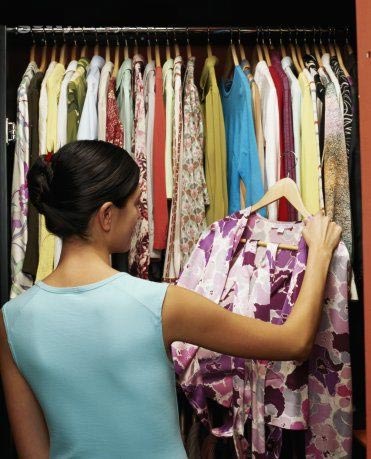 In the past, my closet has been been packed with serious clothing when I've only wanted to come across as artsy and laidback. Other times, it's been overrun with flowy Earth Mother pieces when I've only wanted to seem serious and corporate.
In fact, I began Campbell & Kate for this reason. While working as an attorney, I had a closet full of matronly knit tops and baggy button fronts to wear under my suits, but I wanted to look strong and competent in a classic fitted white shirt. I wanted to blend in with a room full of men wearing crisp dress shirts. The problem was, no such shirt existed for me. So I created a button front for the busty woman who wants to exude power and authority.
By then, however, I no longer needed to blend in with a room full of men! I worked for myself and set my own dress code. Fortunately, I discovered that a classic white shirt bridges the extremes of any closet--it's a crossover piece that can be worn under a suit jacket or over a long, flowy skirt.
Now a woman with a big bust has the option of wearing a classic button front white shirt almost anywhere, including these fifteen settings that I've come up with off the top of my head:
interview
client lunch
casual Friday
date night
shopping at Walmart
shopping at Bergdorf's
big city
small town
house of worship
dropping kids at school
hospital visit
amusement park
reunion
convention
air travel
Looking at this list, I understand why so many stylists call a classic white shirt a must-have. It is one item that you can wear for countless roles in a multitude of settings. It's insurance against that panicked cry, "I have nothing to wear!" It's the strategic shopper's smartest move.
Until recently, however, it didn't matter how strategic a woman with a big bust tried to be with her shopping. The "White Button Down Insurance Policy" wasn't available to her. As Caitlin Moran puts it,
"There's nothing here for me!" is the cry on the high street, three hours into a shopping trip, having bought only a pair of tights, a foldable chopping board, and school cardigans for the kids. "Everything is two inches too short, two tones too bright, and there's NO SLEEVES. WHY ARE THERE NO SLEEVES? IF EVERY WOMAN IN THIS COUNTRY WERE ALLOWED TO COVER HER UPPER ARMS, AS GOD INTENDED, PRESCRIPTIONS OF XANAX WOULD HALVE IN A FORTNIGHT. WHY ISN'T THERE ANYTHING FOR ME IN THIS GIGANTIC, OVERLIT SHOP?" ... With the advent of mass fashion, however, not a single item of clothing sold is "for" the woman who buys it. Everything we see . . . is made for a wholly imaginary woman--an idea in the designer's head--and we buy it if we like it, say, 70 percent.
There is nothing mass fashion about Campbell & Kate Signature Shirts. They are made "for" those of us with large breasts, using non-imaginary women as fit models. Campbell & Kate shirts were created so that you never have to look in your closet and say, "There's nothing here for who I'm supposed to be today."