03/05/2018
Two things are sure to make a big-busted woman gasp, "I could never wear that!"
A dress with no back . . .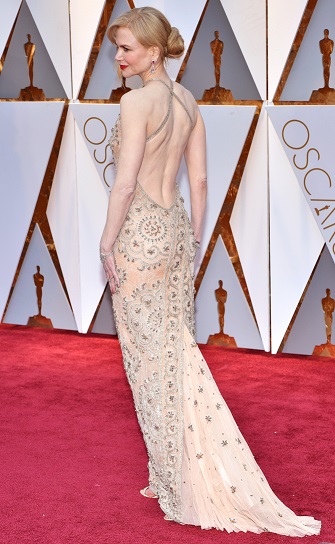 and a dress with almost no front.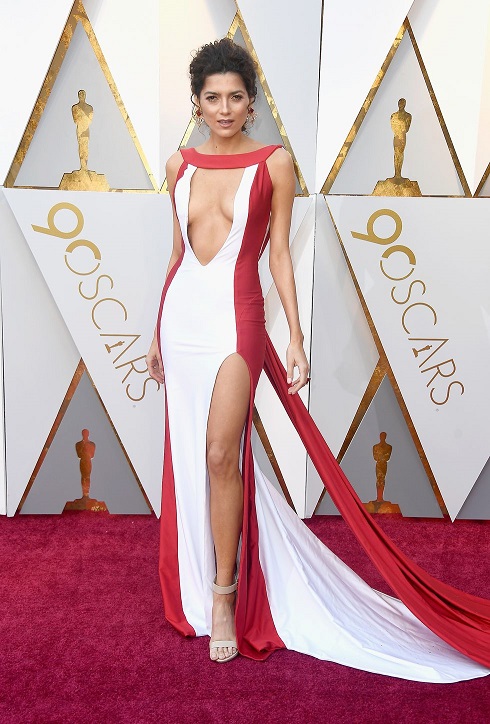 After a buttondown shirt that won't gap, women with large chests tell us that finding an evening gown to fit is one of their biggest challenges. Fortunately, not all glittering gowns are off limits to D cups and higher, and we've culled looks from full-busted celebrities on this season's red carpets to inspire you. Some are custom-made wonders, but many work with a simple strapless or even a regular full-bust bra.
BRALESS OPTIONS
Wearing a custom Vera Wang gown to Sunday's Oscars, the press made a big deal of Taraji Henson pulling the Angelina Jolie leg bomb, but anyone who has a large chest will make a big deal about the bodice instead. There is not a single bra strap or band in sight, yet Taraji definitely wears at least a D cup. How did Vera Wang do it?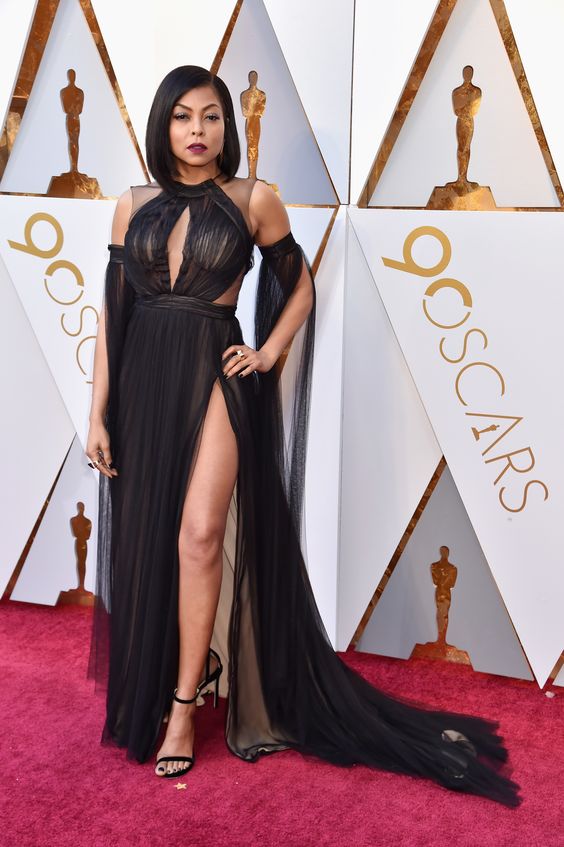 As you might suspect, there is definitely fashion tape involved. In blue below, we've outlined one of the little bra pads that keeps Taraji's lifted shape. Only double-sided tape will keep her large breasts from spilling out of them.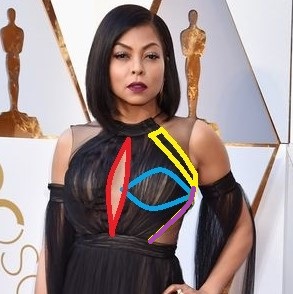 To keep her breasts separated so that major cleavage isn't on display in the red zone above, the yellow-outlined band of fabric provides important structure. It spans the outer width of her large breast so that the shirred bodice can rise from a narrow point on her waist and attach to a wider point under her arm (in purple). This keeps everything covered AND provides a base for securing the bra pad and breast tissue away from the center of the dress. The mesh panel also helps. Finally, a band across the back of the dress acts as an anchor for these important pieces.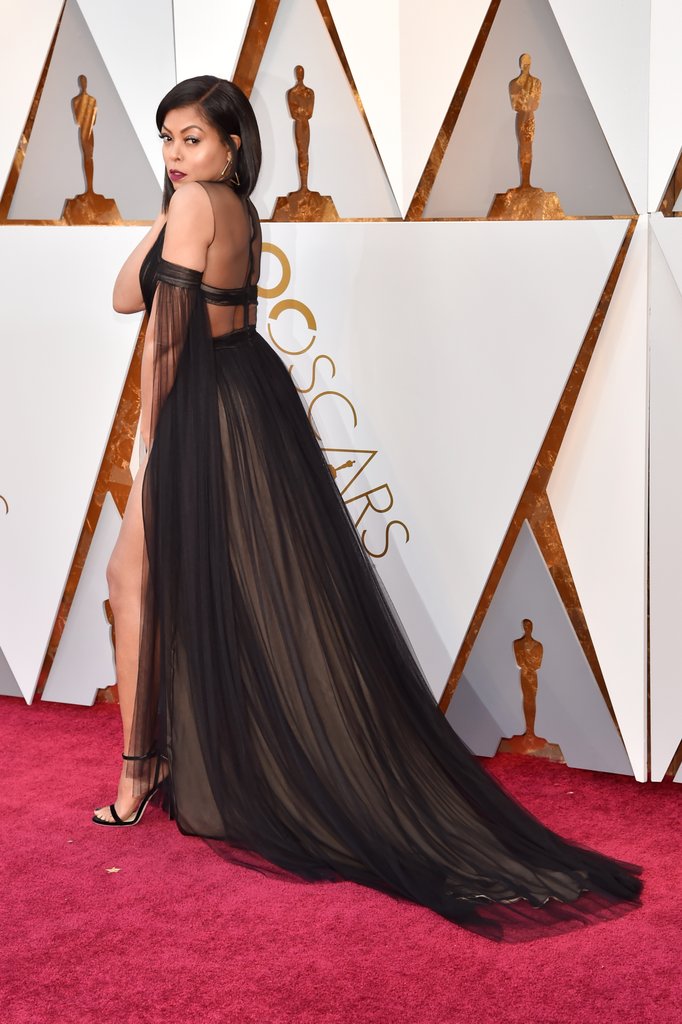 Next, Eiza Gonzalez's "backless" Ralph Lauren dress received a lot of attention, but anyone who wears a bra with a small band and large cups recognizes why this dress works for her.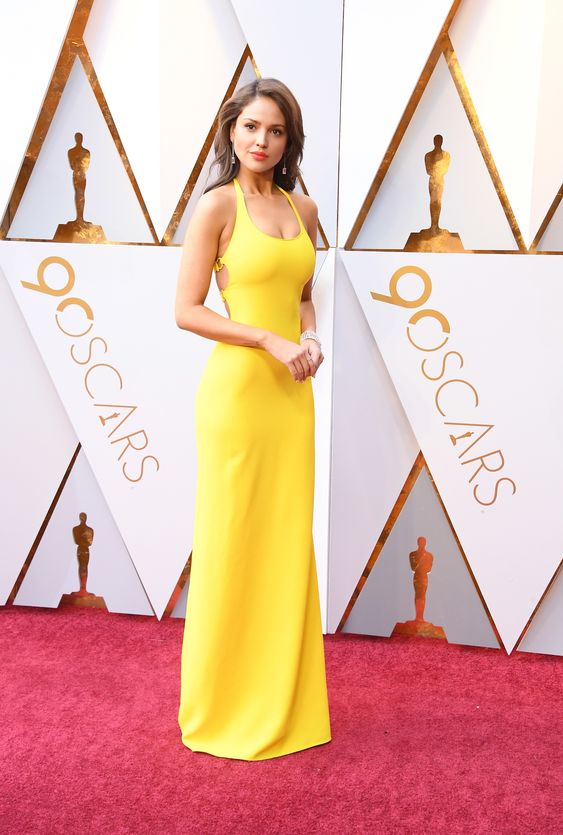 The dress has its own band--two of them in fact!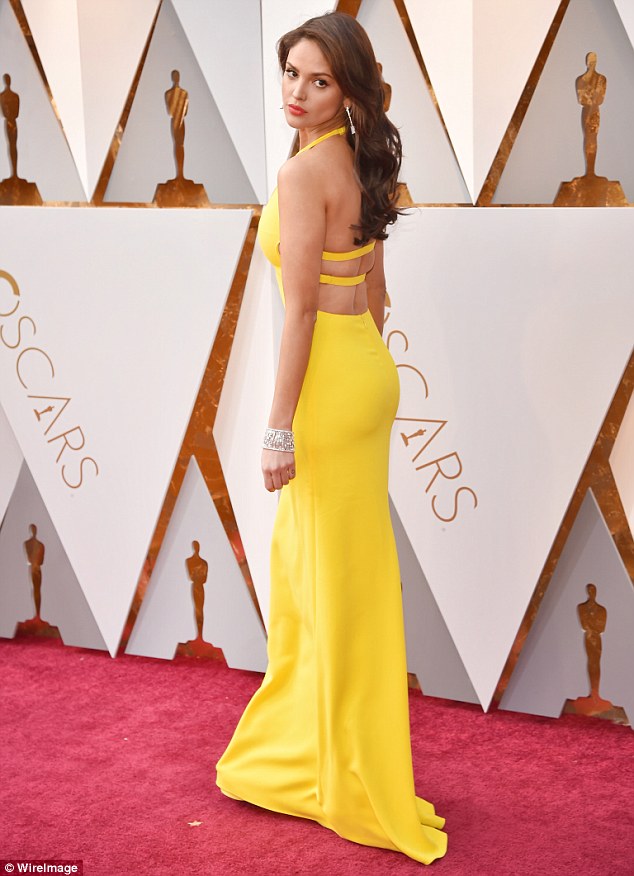 In photos and videos of Eiza in this dress, you can see some mild side-slippage and lower hanging that any woman with big boobs would experience in such a dress, but the overall look is too amazing to care. The compression nature of the body con fabric together with the back bands make this style completely big bust friendly. Edit: Okay, maybe not completely bust-friendly for ALL bra sizes, but a serious contender.
STRAPLESS BRA REQUIRED
This season, the stars who are well known for their voluptuous hourglass shapes seemed to gravitate to strapless mermaid or column gowns. There's a good chance that the first three examples use internal bras and boning.
Sofia Vergara at the Emmys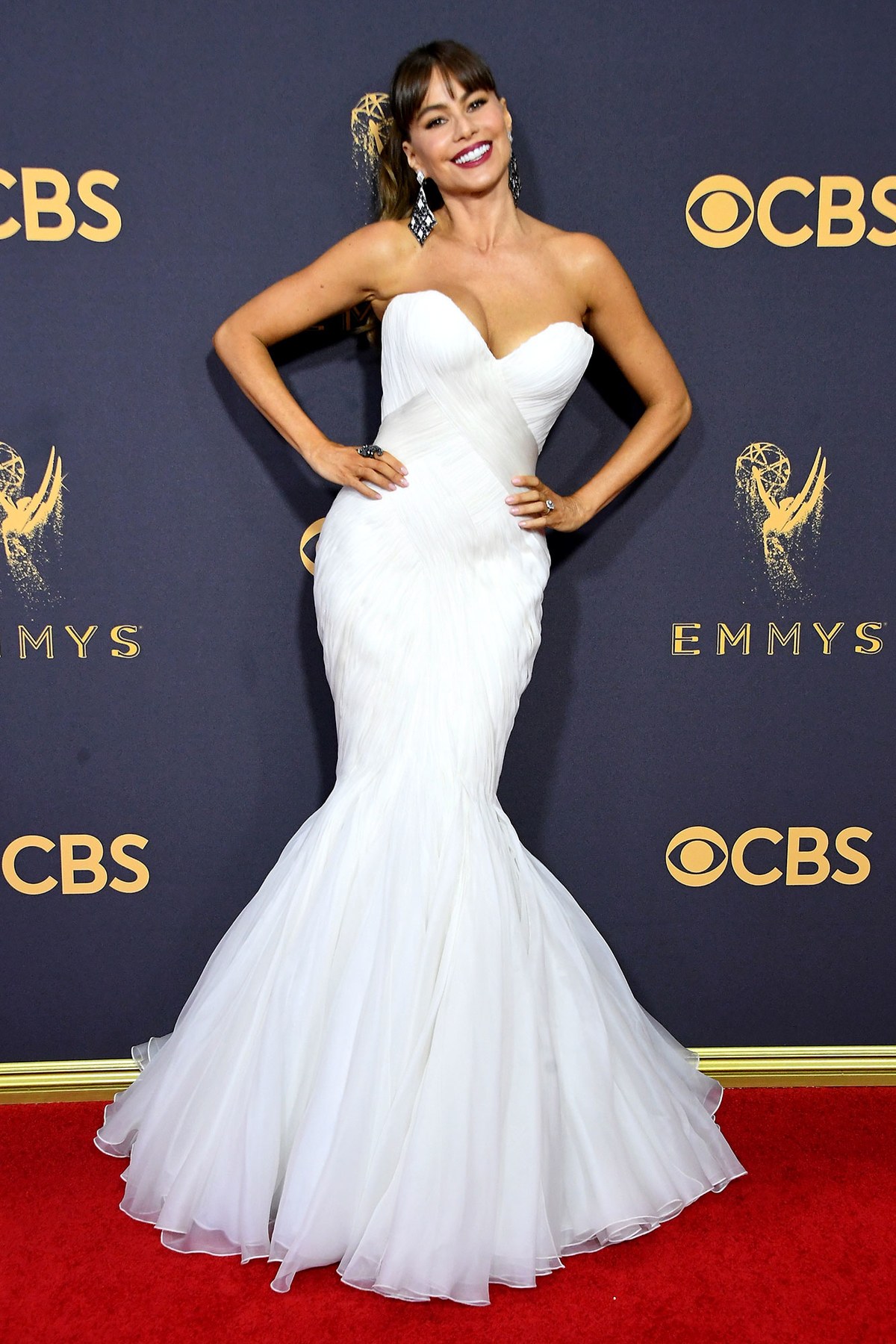 Kate Upton at the Vanity Fair Oscars after-party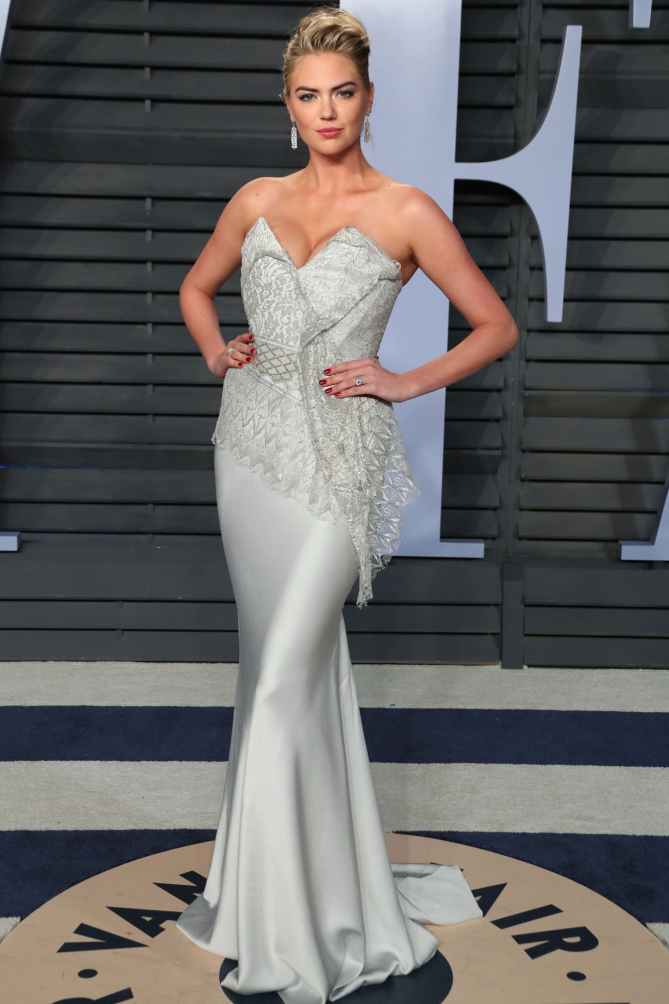 Ashley Graham at the Vanity Fair Oscars after-party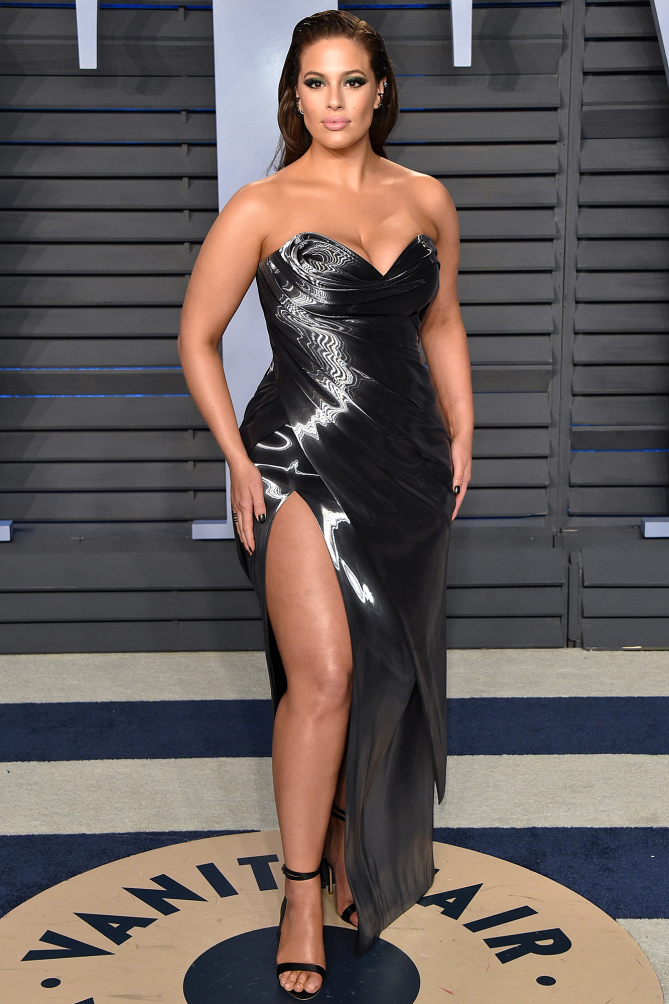 Rachel Bloom at the Vanity Fair Oscars after-party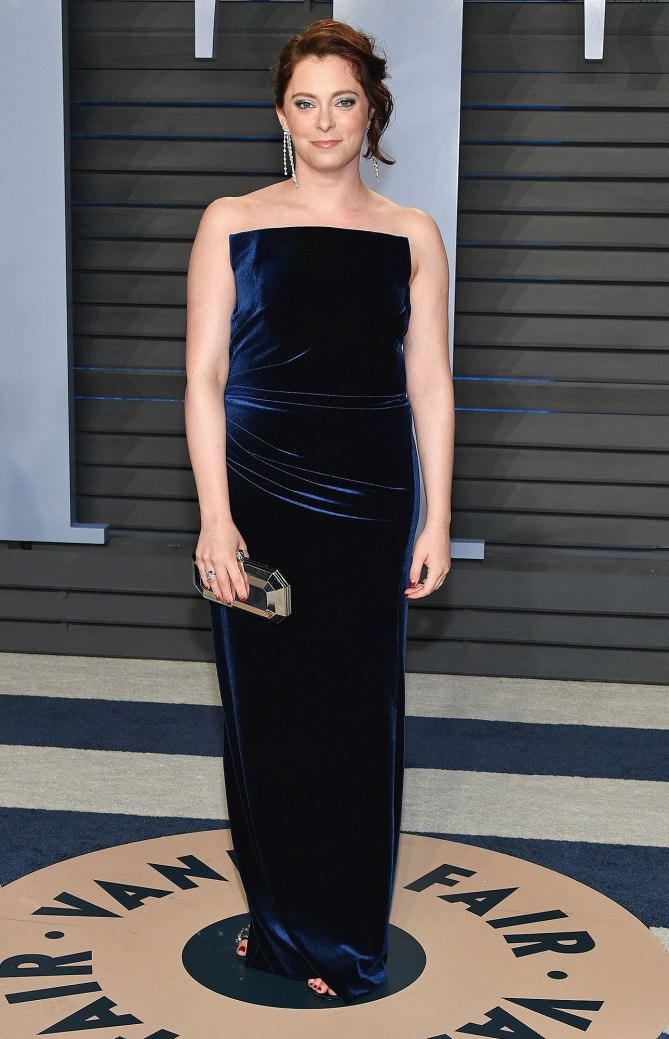 Christina Hendricks was a large-busted exception to the strapless column gown with her off-the-shoulder bodice and full skirt at the Golden Globes.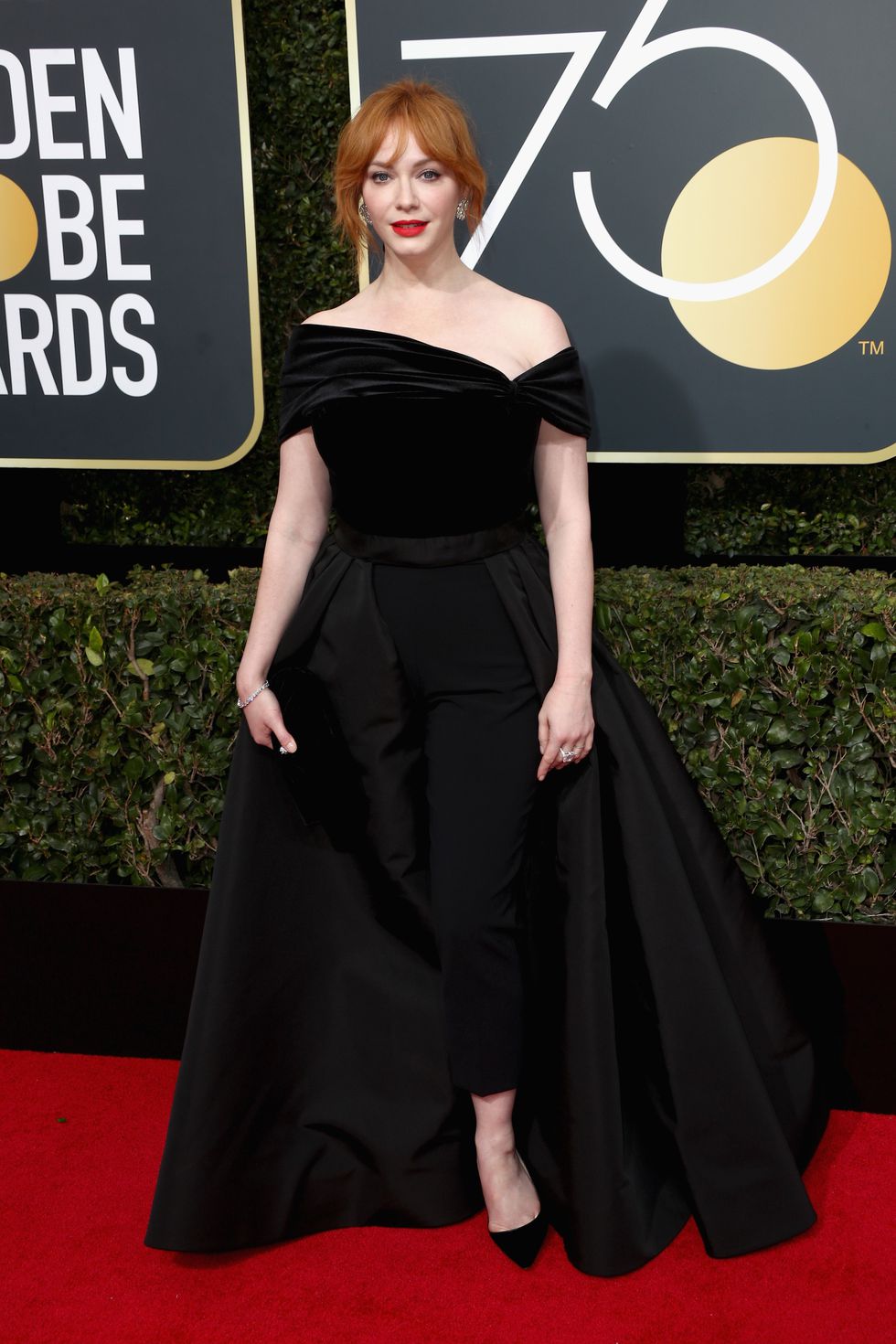 At the Emmys, Golden Globes and Osars, Viola Davis wore dresses with straps and deep necklines, a flattering look on many women with a large chest.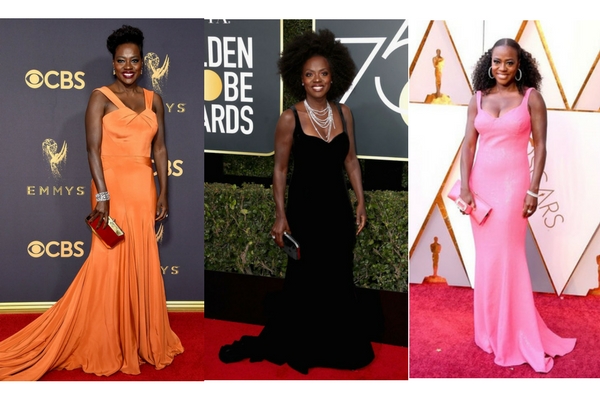 Uzo Aduba wore spaghetti straps at the Emmys.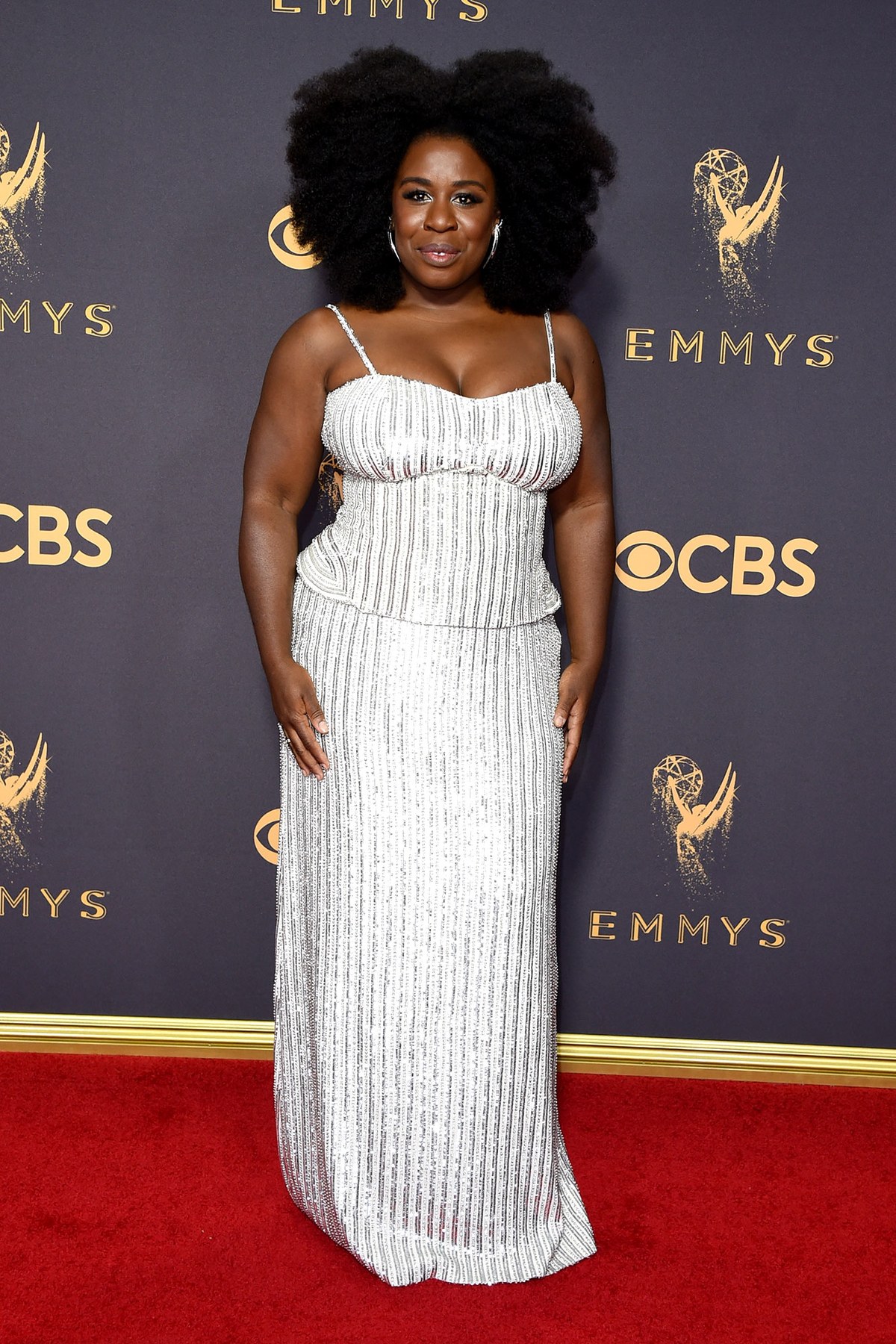 FULL BRA IS FINE
Bare shoulders aren't required for a gown to look amazing on a large-breasted woman. There are plenty of looks that can work over a regular large cup bra.
You've always heard that wrap dresses are supposed to look great on busty woman, and Salma Hayek proved it in this amazing gown at the BAFTA awards--likely over a plunge bra.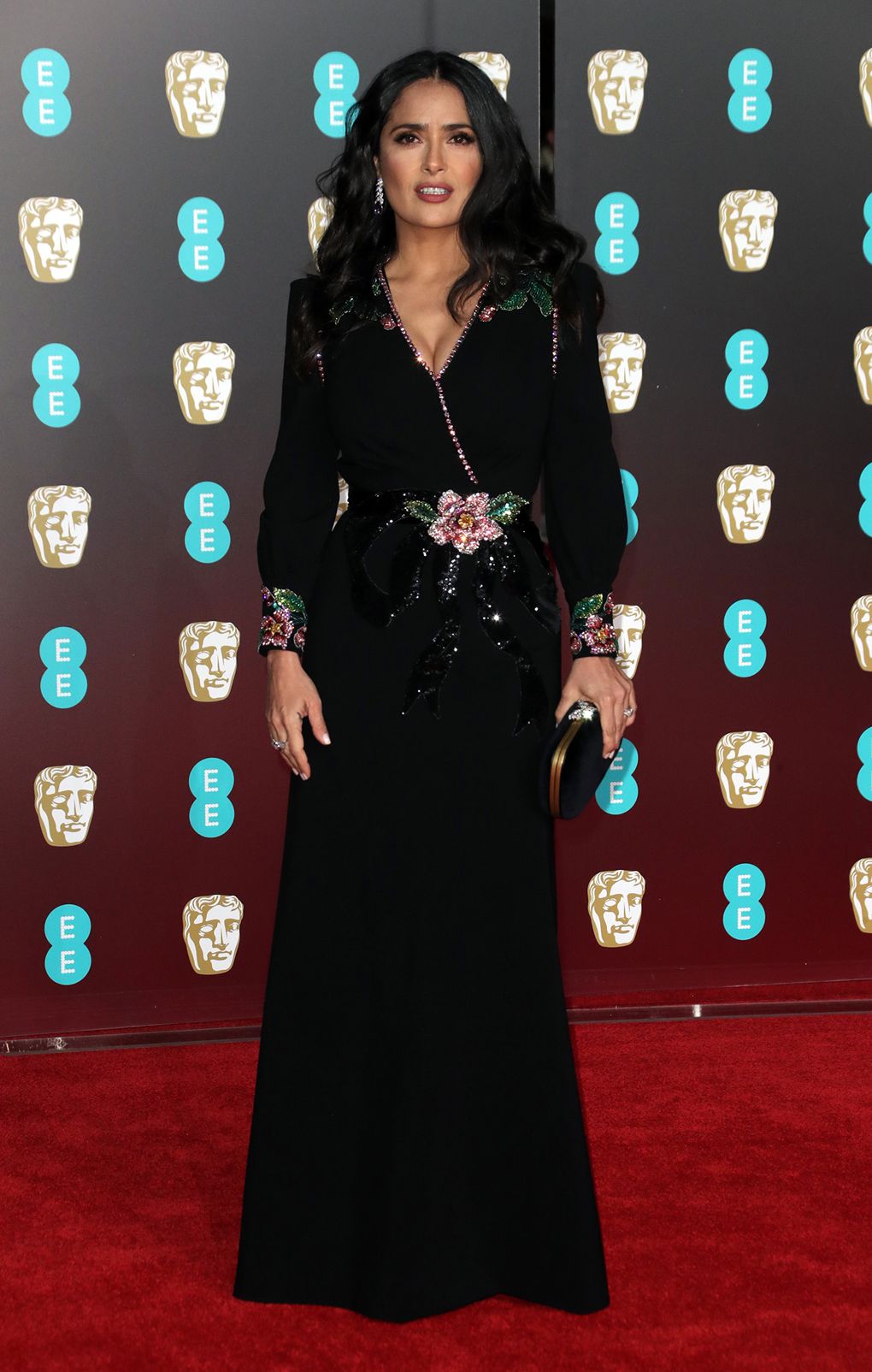 At the Independent Spirit Awards (on the left), her dress even had large pocket flaps over her chest. She wore the dresses in the middle and right photos to the Oscars and Vanity Fair after party.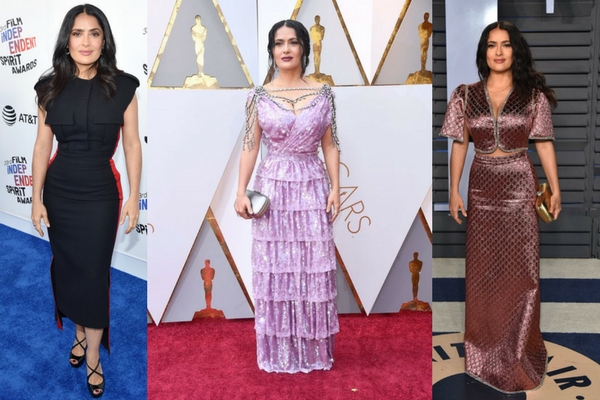 It's also possible to go completely covered up and still look glamorous, as director Ava Duvernay has demonstrated at past and recent awards ceremonies (from left to right, Oscars 2015, Oscars 2017, Emmys 2017).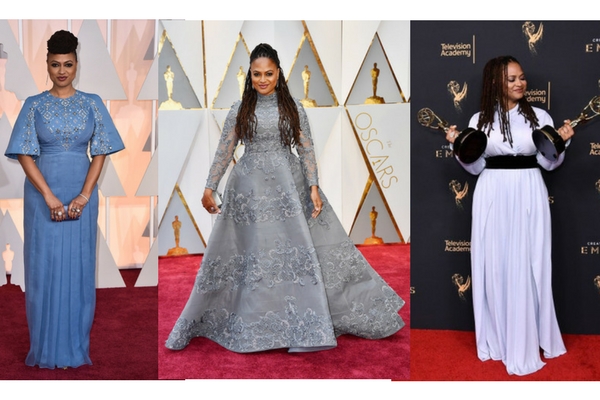 (From left to right, Golden Globes 2018, Independent Spirit 2018, Vanity Fair Oscars after-party 2018).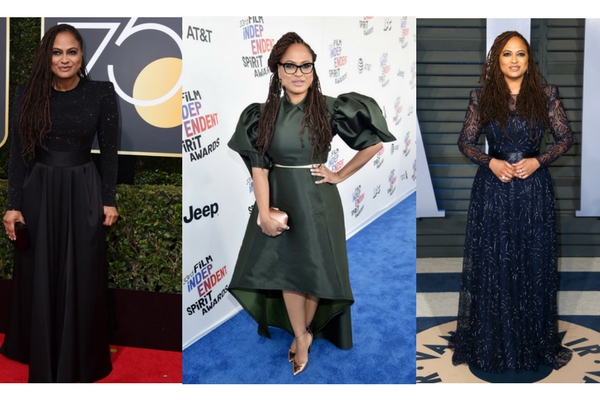 Here are two more very covering dresses with other elements that help lighten the look. In Patty Jenkins' gown at the Producers Guild Awards, the deep portrait neckline and sequined firework patterns help keep things from looking too heavy.
In Chef Huda's boat neck gown for the Grammy's, the upper arm slits lighten things up.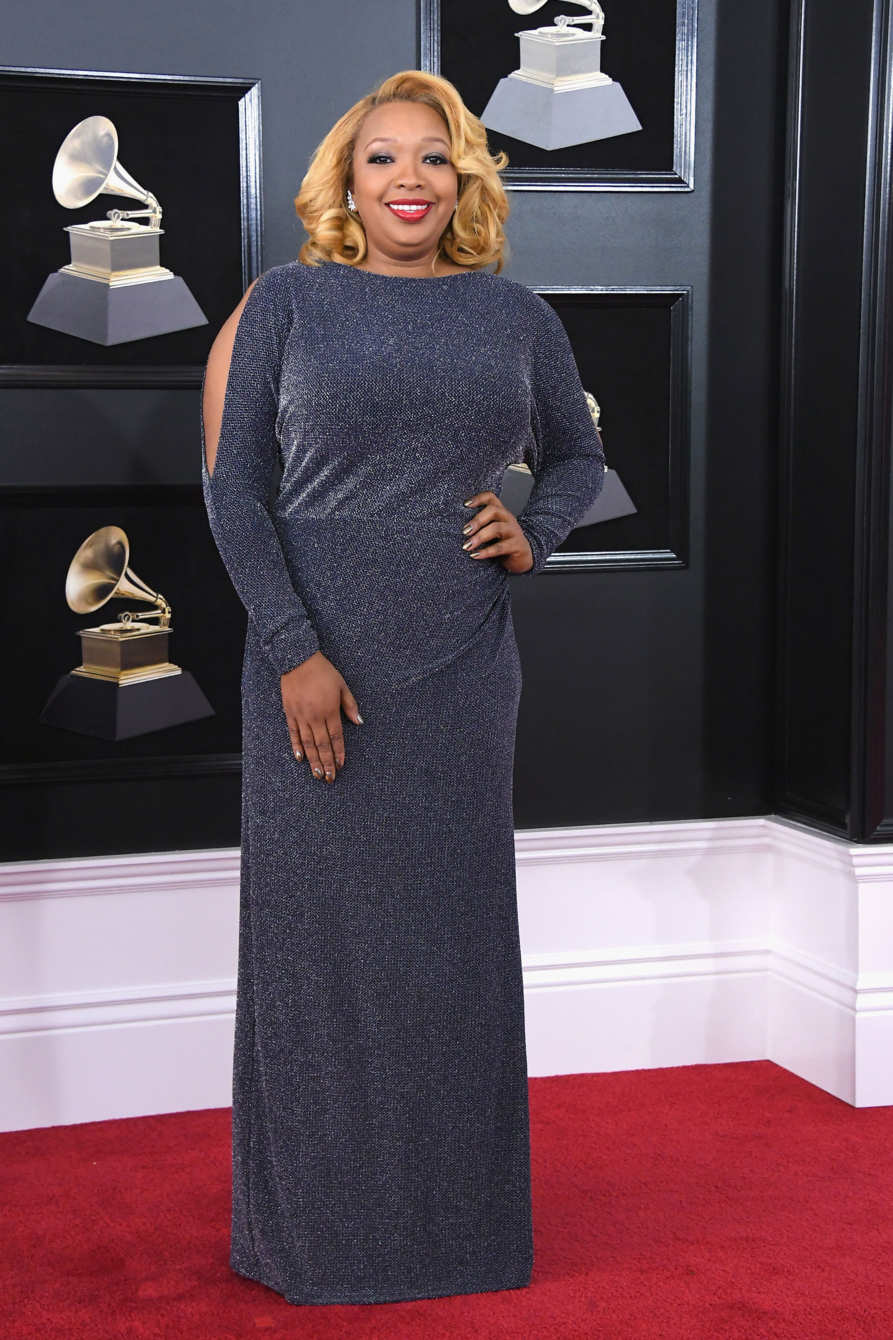 Finally, there are always unconventional options to play with. Here, Sarah Silverman's Grammy dress looks less traditional with fishnet stockings and booties.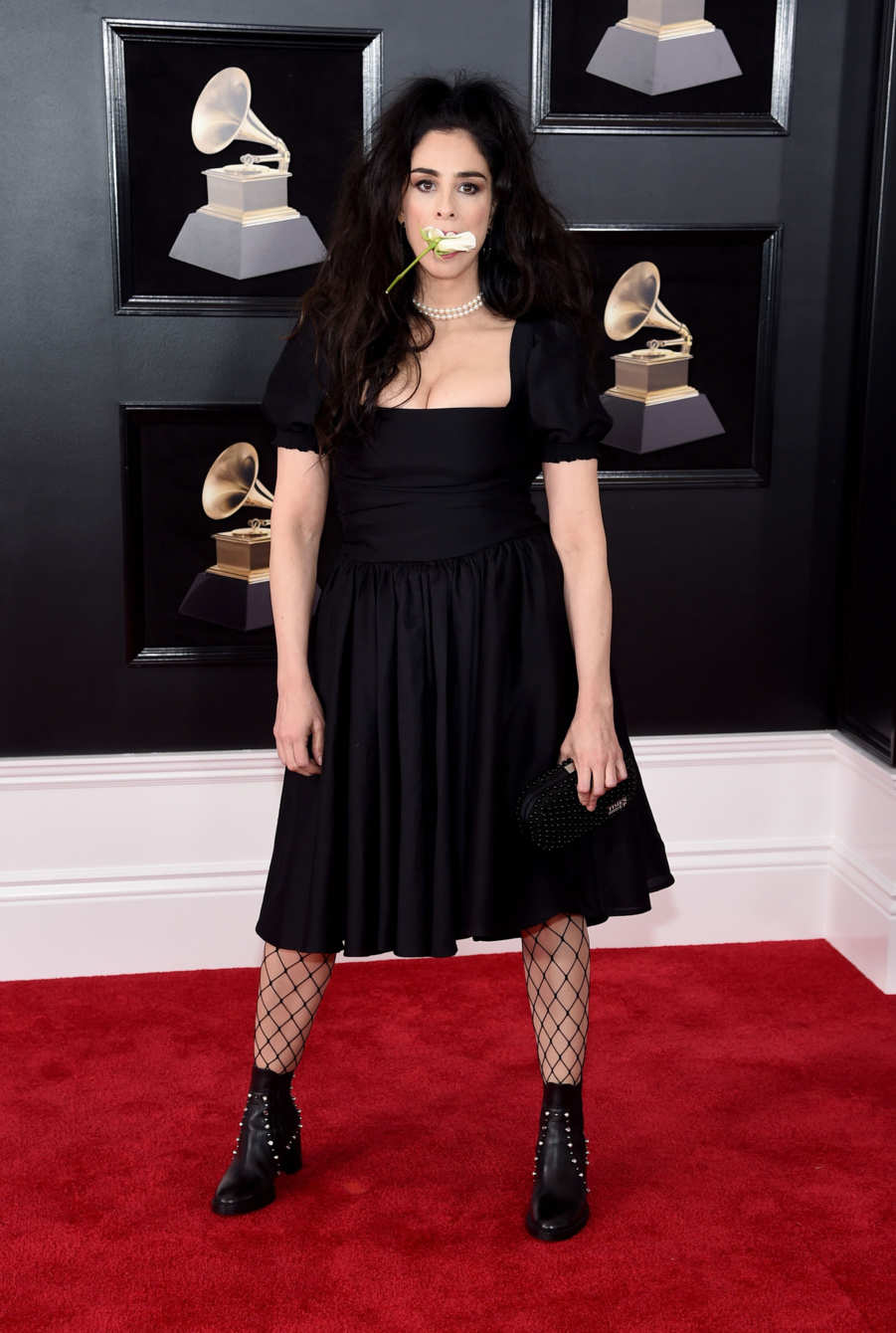 And then there are jackets!
Sarah Silverman at the Independent Spirit Awards.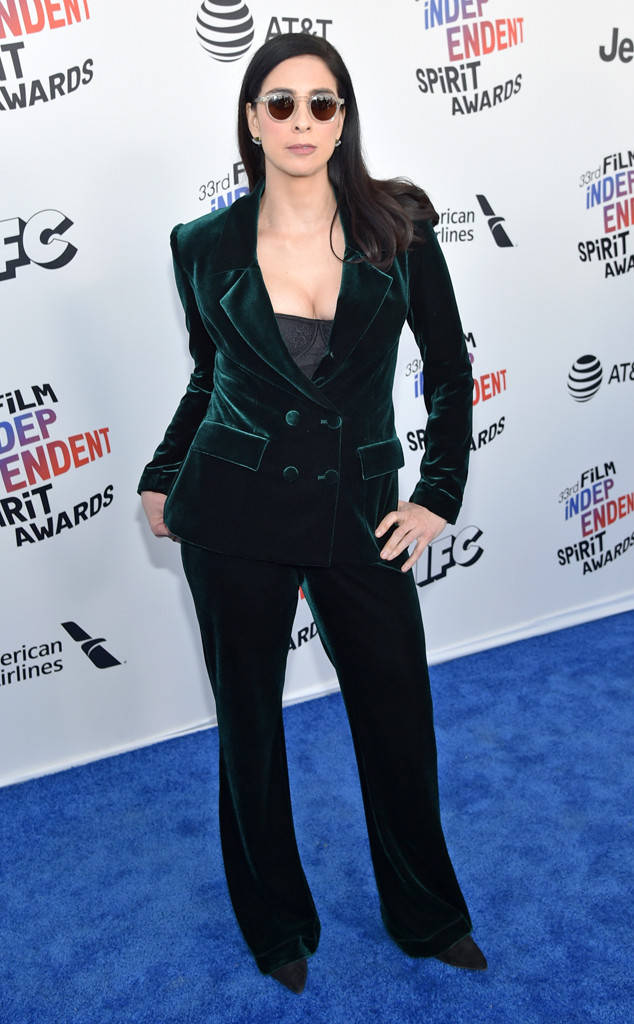 We don't know if Cyndi Lauper is actually big-busted, but she's wearing a Vivienne Westwood suit here, and we'd like to point out that Vivienne Westwood Anglomania been known to work well on large-busted ladies. In this case, it's also helpful that her jacket buttons below the bust.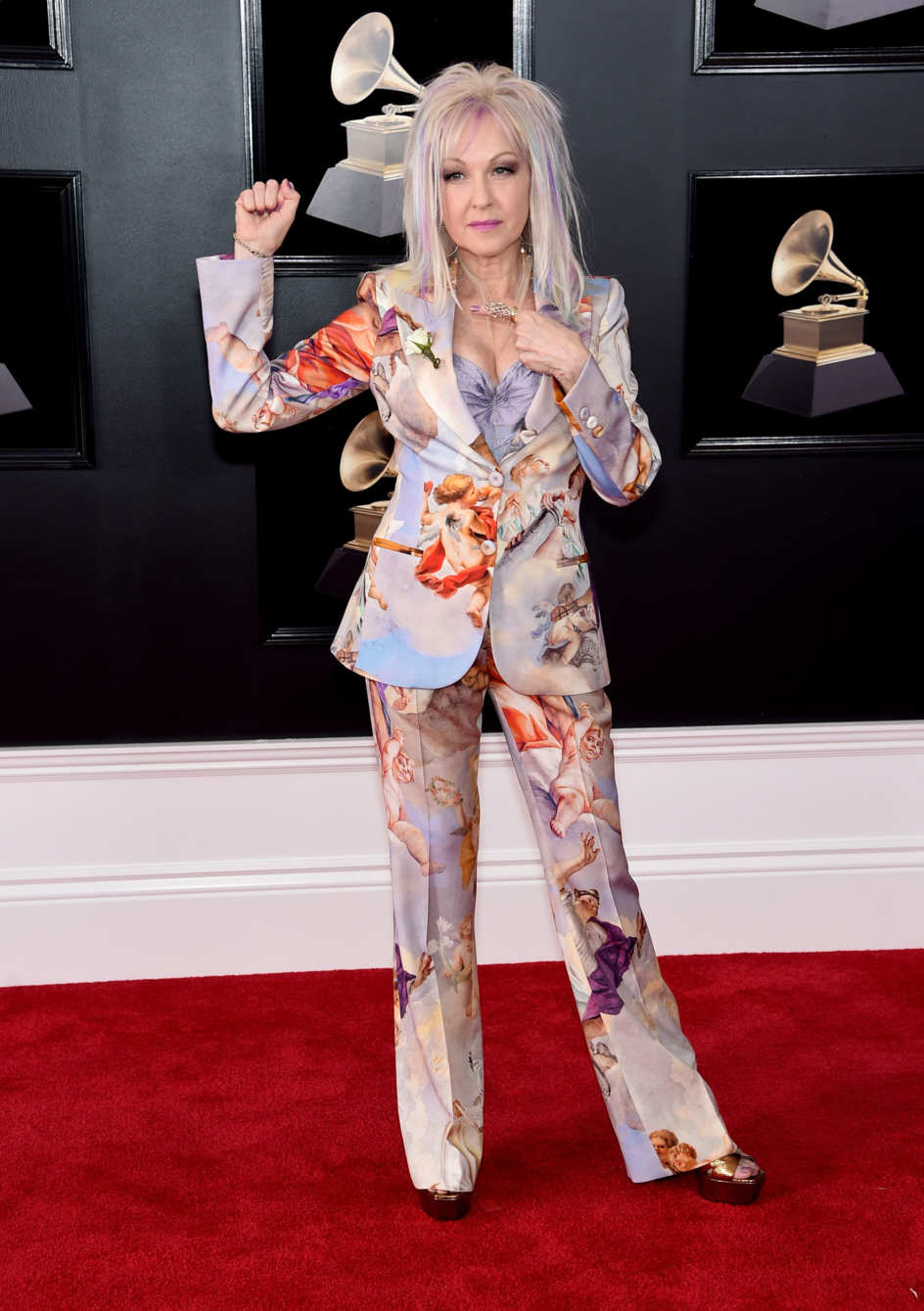 Ava Max left her jacket open over what looks like a bodysuit . . . another creative option.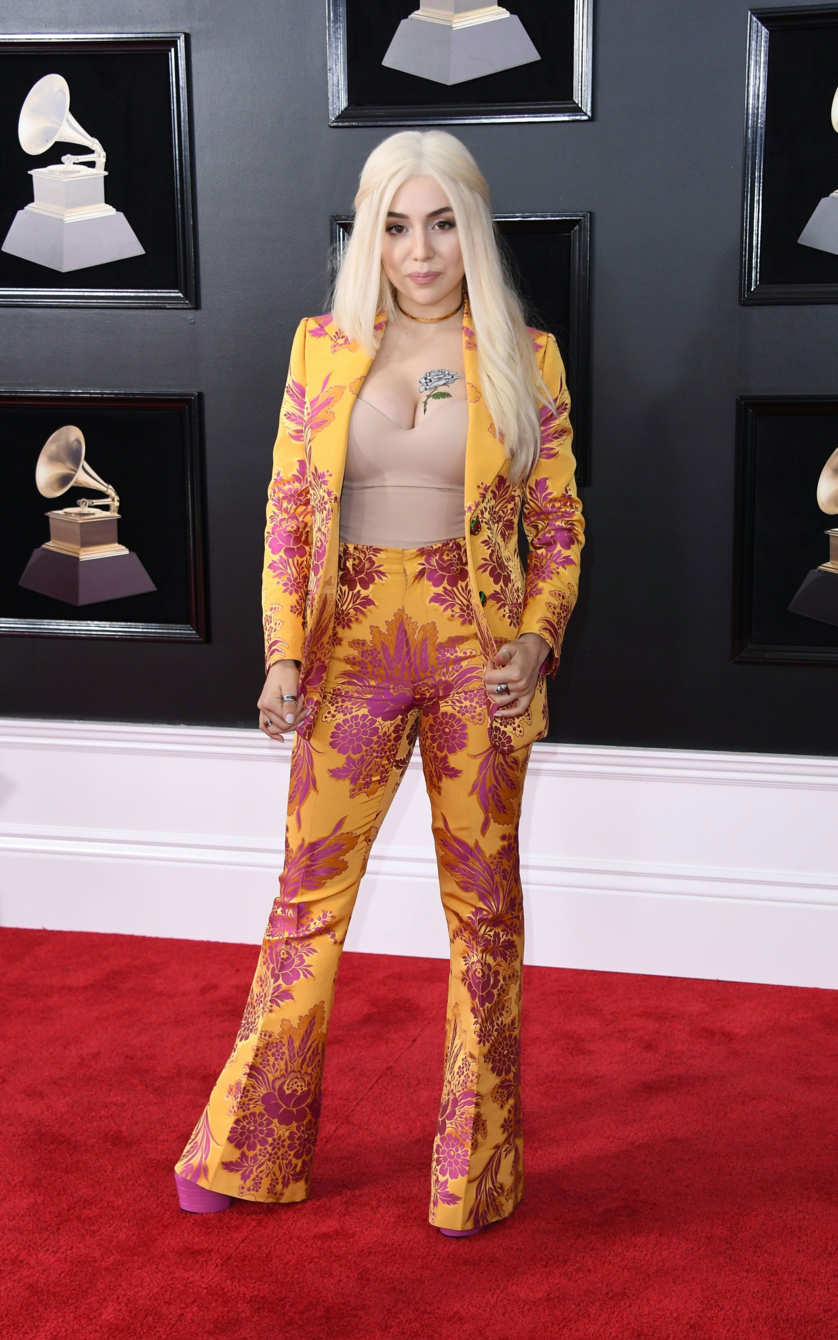 Finally, Anna Kendrick is NOT someone who is known for a large chest, but her lingerie-as-outerwear is a reminder that there are beautiful corsets and bustiers for large busted women who want a similar look.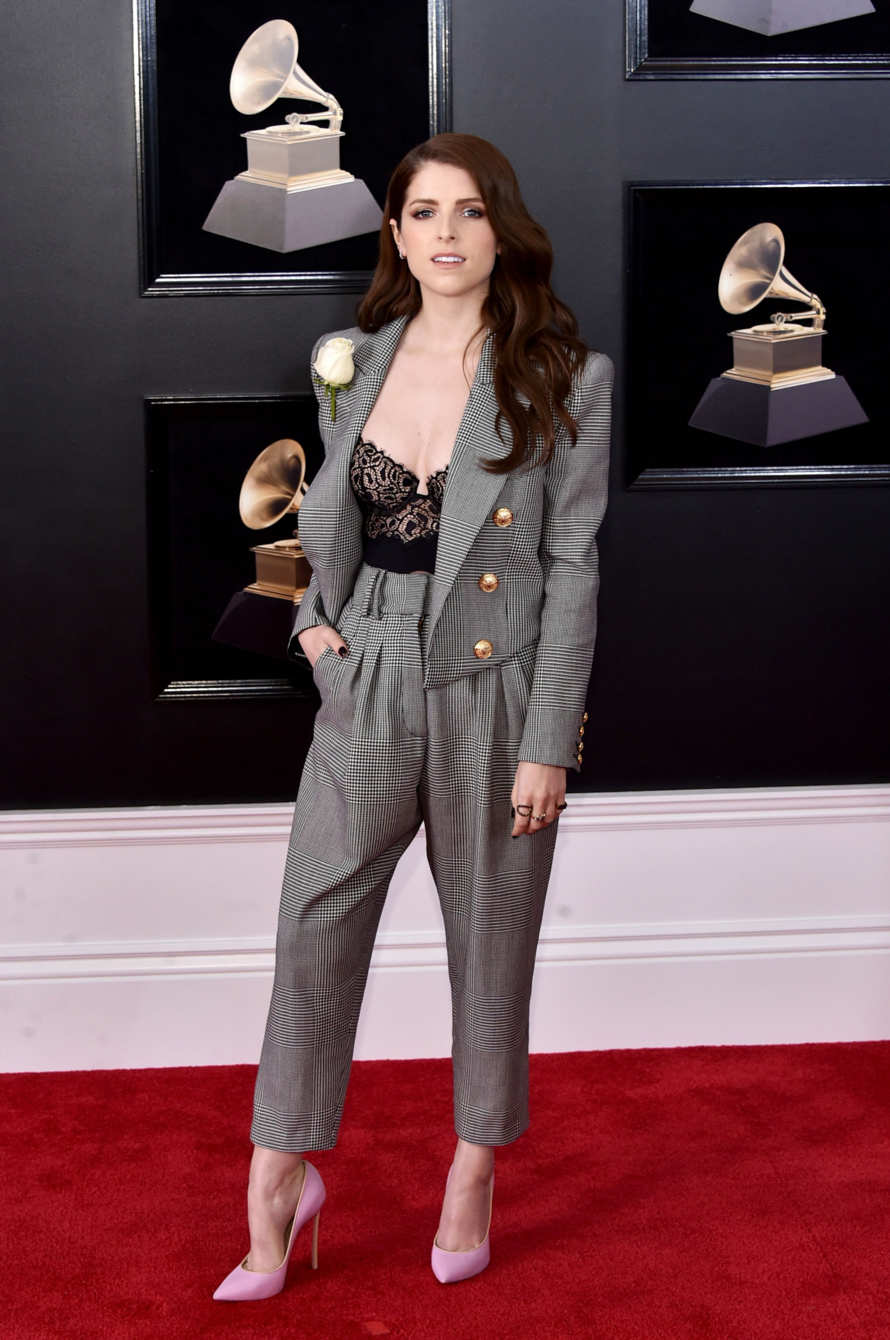 There is something for everyone who wears a D cup and up who wants to dress up. Whether you decide to go simple or elaborate, high-necked or low, full-coverage or bare, we hope that at least one of these images from the red carpet caused you to think, "I could wear that!"