08/31/2016
Some shirt colors make busty women look vibrant and alive while others make us look like we should take a sick day. Unfortunately, white falls into the latter category for some of us. Even so, a crisp white shirt that fits a big bust is such a great look that women's coloring shouldn't stand in the way. At Campbell & Kate's recent photo shoot, I discovered three ways to make white work on any full-busted woman.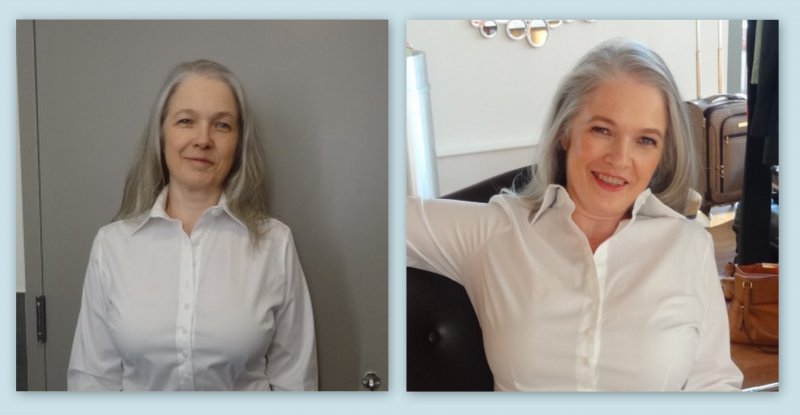 Our model above has fall coloring. With her skin's yellow undertones, she looks amazing in greens, earth tones and orangey reds. I asked our makeup artist Barbara Moura what our model could do to look better in white. Her number one tip for getting away with white: a bold lipstick. Everyone has heard the advice to wear a flattering color close to your face, but lipstick is the opportunity to wear it in the middle of your face.
The second essential tip for wearing white: well-shaped and filled eyebrows. Defined eyebrows give a woman an automatic eye lift and make her look like she's had eight hours of sleep--the perfect antidote against looking washed out.
The third tip for looking great in white: long, dark lashes. Sparkling eyes make it impossible to look like you're wasting away. Mascara is great for this, but subtle false eyelashes are even better, which is what Barbara used on our model. If false lashes are too complicated, eyelash extensions are an incredible option that I discovered over a recent coffee with Autumn Whitefield-Madrano, the author of Face Value: The Hidden Ways that Beauty Shapes Women's Lives. When I admired her luscious lashes, she shared that eyelash extensions are her beauty splurge that last for weeks and negate the need for any other eye makeup. [October update: There's a new option in town--magnetic lashes!]
As you can tell from the before-and-after photos, lighting also makes a big difference. The fluorescent lighting for our pre-shoot fitting (the model is wearing a 6S) didn't do the same favors as the golden sunlight flooding the studio. However, with her red lipstick, defined brows and long lashes, not even fluorscent lighting could stop her from looking fabulous in a classic white shirt.