03/27/2018
Fist bumps are great. Shoulder bumps from a wide hanger, not so much!
For years our company hung our classic white shirts for bigger busts on standard slimline hangers. However, as we prepared sample shirts for pop up shops, the only things that always needed ironing were the shoulder bumps and the weird vertical creases they caused below them. Our shirts come in 24 bust-friendly sizes, so we were ironing 48 sleeves before every event!
We searched high and low for an alternative and found four great options that we're sharing with you . . . because some mornings even one sleeve is too much to iron.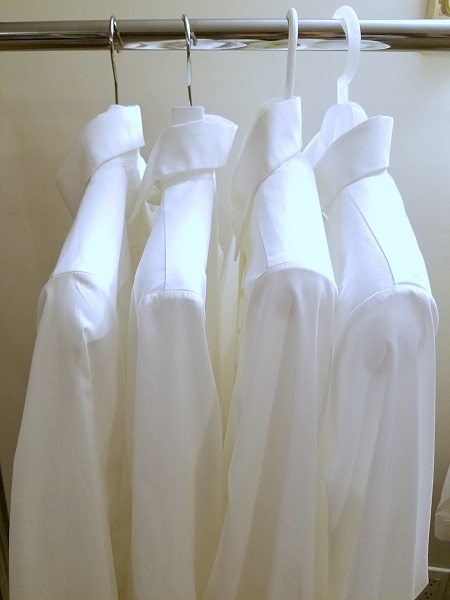 We dare you to find another suit hanger that is only 15 inches long--we searched everywhere for this one. With its petite length, this hanger falls perfectly at the shoulder seams of our size 8 shirt (which measures slightly more than 15 inches across the shoulders). In the photo above, it's the second from the left. See what we mean?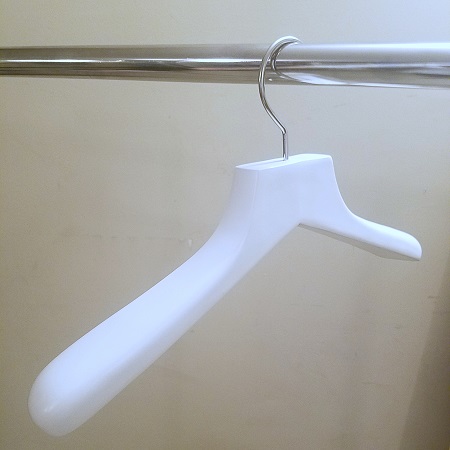 Does a SUIT hanger for a classic button front SHIRT seem like overkill? Not when you've been ironing 48 clusters of vertical creases caused by narrow hangers. Once we discovered suit hanger shoulders, we couldn't go back. A 15-inch hanger without this feature (like the Petite Basic Shirt Hanger from The Container Store), continues to cause creases. On the other hand, a longer hanger with wide shoulders doesn't cause as many.
This is how the sleeve looked after more than 24 hours on the Only Hangers petite suit hanger.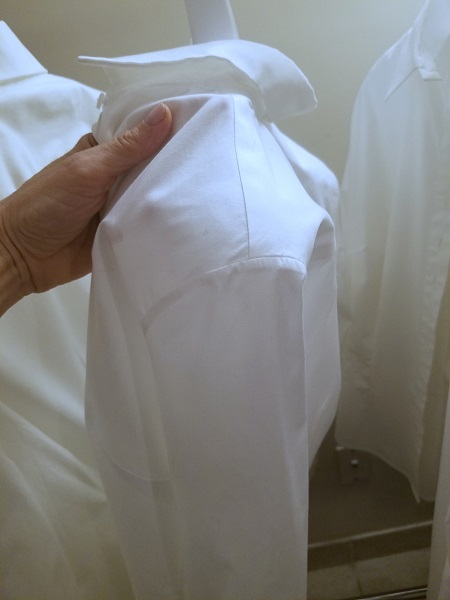 The only negative about this hanger is its weight. At $6.95 on the company's website, it isn't the most expensive, but the price increased to $16.20 with shipping. A box of six from Amazon, on the other hand, runs about $10 per hanger and includes shipping.
The Fanciest: The Container Store Euro Hanger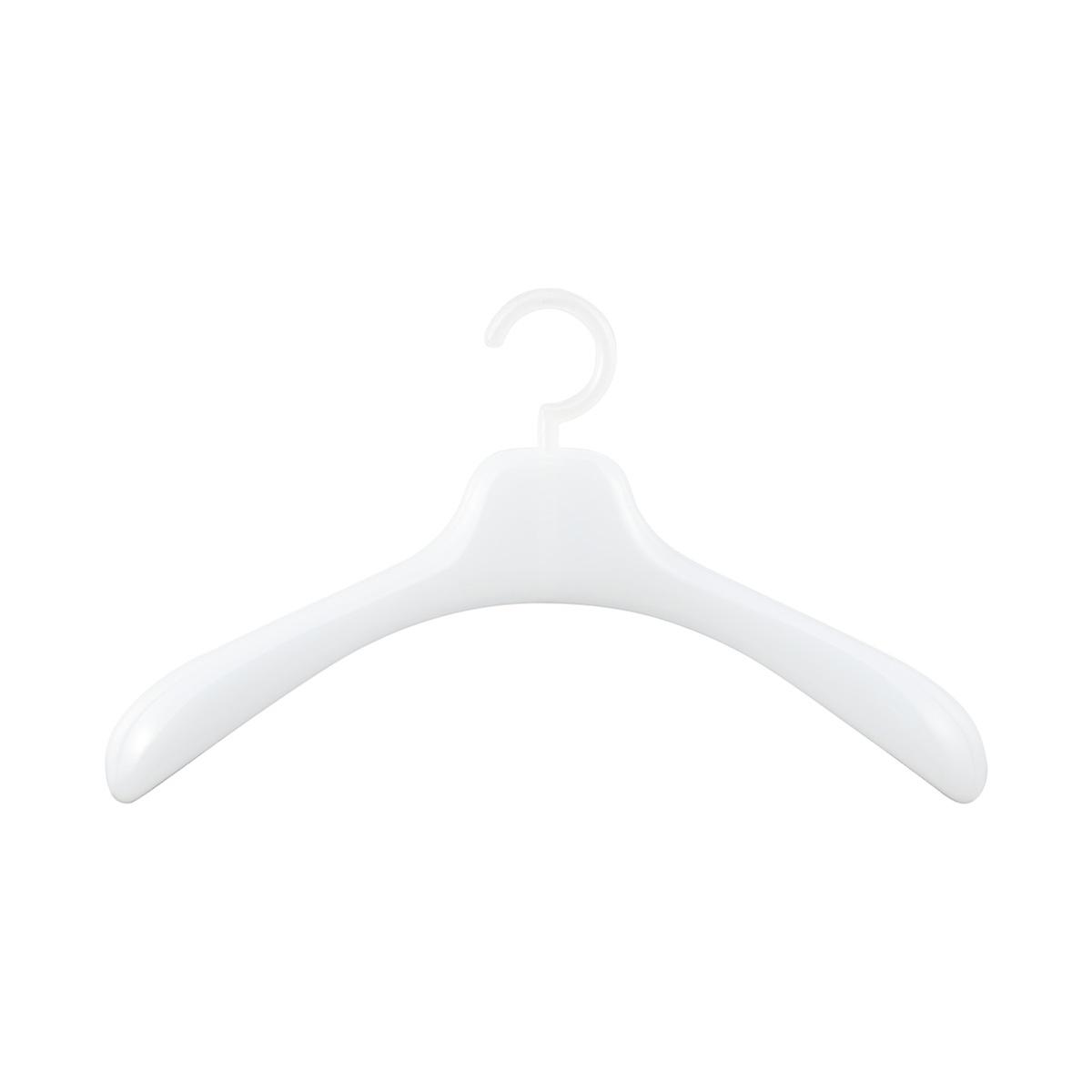 In translucent white, the Euro seems like a piece of modern furniture. It boasts "a 'French' collar to protect and maintain the shape of garments with high collars" and is contoured to mimic a real person wearing the garment that it holds. It's also extremely light. In the first photo in this post, it is the hanger on the far right.
This is how the sleeve of our shirt for big busts looked after more than 24 hours on the Euro hanger.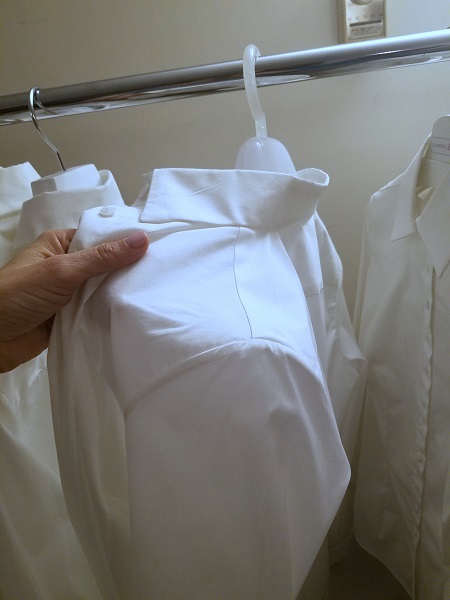 The Best Value: Ikea Bumerang Shoulder Shaper
Ikea Bumerang hangers cost $3.79 for eight, and each shoulder shaper is only 50 cents, so you won't be surprised to hear this is what we use for our 24 fit samples plus inventory. In the first photo of this post, it is the hanger on the far left.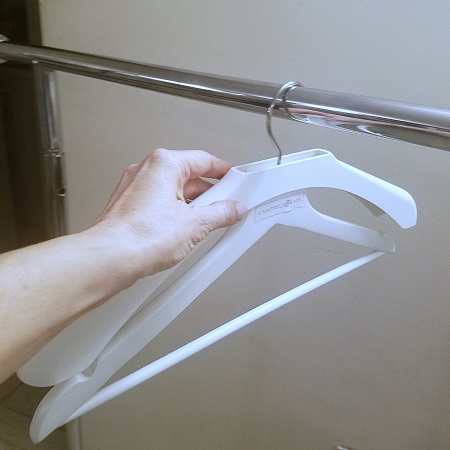 At 17.25 inches, the Bumerang is the longest of the options that we're showing you, and it also ties for the narrowest at 1.5 inches wide. This is how the sleeve of our shirt for a large chest looked after more than 24 hours on the Bumerang.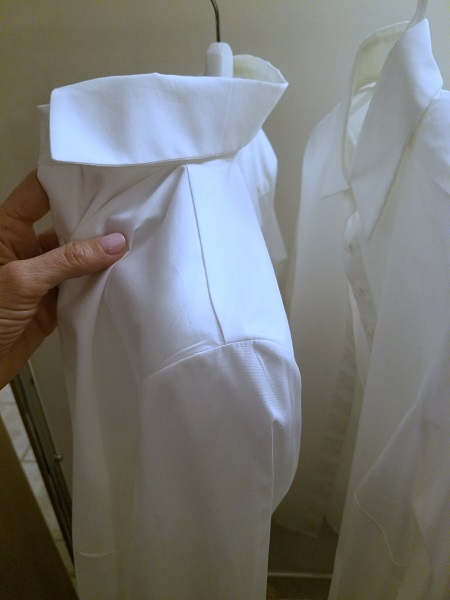 While we would prefer the length and width of the Only Hangers petite suit hanger, the Ikea Bumerang still manages to save us from any extra ironing.
The Runner Up: The Container Store Shoulder Shapers and Tubular Hanger
If you like plastic hangers, this is the way to go. Each Container Store tubular hanger is only 32 cents and measures 16.5 inches long. The clever clip-on shoulder shapers cost $2.99 for a set of two and are 1.5 inches wide. In the first photo of this post, it is the hanger second from the left.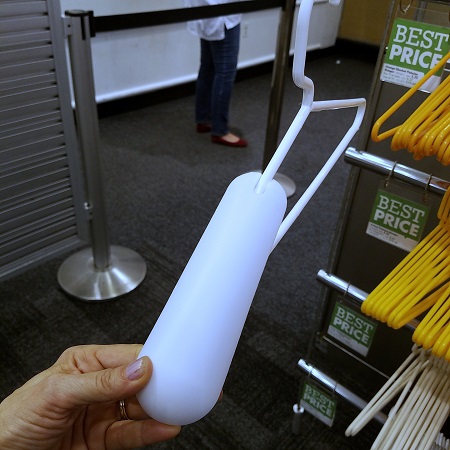 Here's how our shirt sleeve looked after over 24 hours on the tubular hanger with shoulder shaper.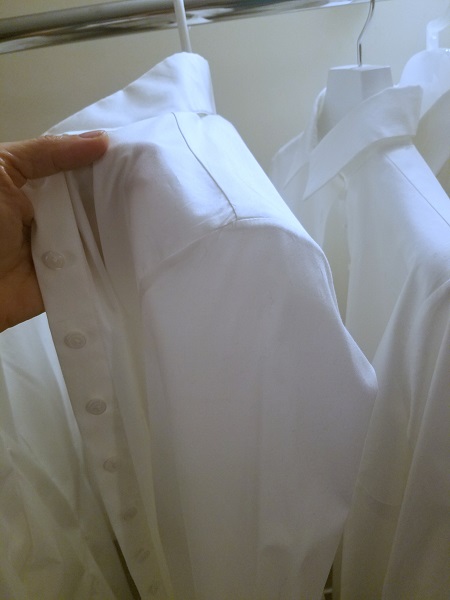 Finally, when you absolutely must iron, here's a link to our blog post about the best way to iron shirts made for curves. We've since graduated from the iron in that post to an industrial gravity feed iron like this one. It never spits, and it emits such gorgeous steam that ironing our shirts for fuller busts is a pleasure--as long as it's not all 24 sizes at once!