05/25/2017
When Joann Lublin's book Earning It launched last fall, I couldn't wait to read it—and not just because it pictures a woman wearing a classic white shirt on its cover. Lublin interviewed 50 female executives for her book, and I wanted to know everything about their rise to the top.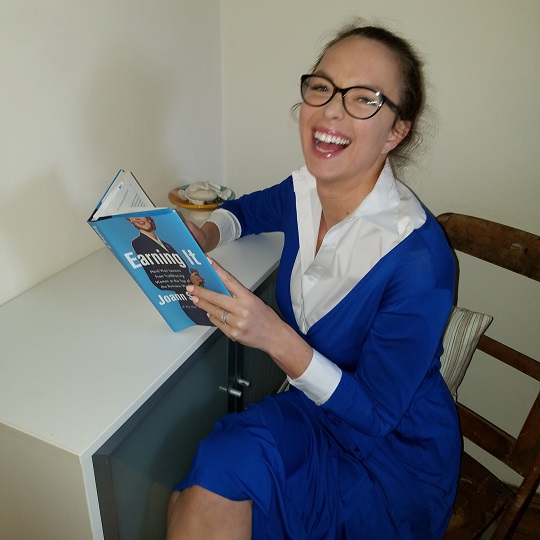 The book covers such a wide range of real issues that any reader is sure to relate to at least one woman's story. Perhaps most refreshing is Lublin's own admission of mistakes she has made in her career. My only frustration with the book was that I wanted more from each storyteller. Reading it felt like attending a panel discussion where one panelist captured my attention, but the moderator had to give equal time to everyone on stage. It raised mulitple questions without the benefit of a Q&A session afterward! Fortunately, many of the women interviewed have written their own books, which Lublin lists in a helpful bibliography.
As a company that helps busty women dress for leadership, Campbell & Kate's review wouldn't be complete without highlights from the chapter on executive presence. Here are our favorite pointers.
I. Appearance isn't everything
Nancy McKinstry, CEO of Wolters Kluwer: "What you wear doesn't create executive presence" as much as the ability to communicate a clear strategic vision.
Mary Barra, CEO of General Motors, after a reporter criticized her for wearing expensive shoes: "That's really not that important. Judge me on the results."
Anne Mulcahy, former chief of Xerox: Rather than the idealized notion of executive presence, "[w]omen really do have to be comfortable in their own skins."
Mindy Grossman, on her transition from Ralph Lauren to Nike, where she continued to wear 4" heels instead of turning into a jock: "The greatest power that you can have as a leader is true self-awareness. Being true to yourself is so important. I loved being the fashionista."
II. But appearance matters.
Beth Mooney, chief executive of KeyCorp: "Always dress like you are going to the president's office. One thing you control is, do you look the part?"
Melissa Dyrdahl on why she always wore heels to work once she entered senior management: "If I am looking them [male co-workers] in the eye, they have to take me more seriously."
Denise Morrison, CEO of Campbell Soup: If you are not crisply dressed, and "you are standing next to the guy in the crisp suit, you don't stand a chance. People are human. They are going to respond to packaging."
III. Take up space.
Carol Bartz on the imporance of powerful posture: "You spread your feet, put your 'bitch wings' on [arms on hips]. You take up space. Men all stand around like this." (Reminds us of the Wonder Woman pose!)
Penny Herscher on an authoritative seated position: "My elbows are on the table. My hands are gripped together in front of me. My body is over the table, I am leaning over. Women don't tend to sit forward like that."