06/20/2018
Some busty women hate swimsuit shopping, but that doesn't have to be you. This year, avoid shoving your chest into the shelf bra of a one-piece or spilling out the sides of a triangle bikini. Try bra-sized swimwear instead! Here are 15 brands that give stylish options beyond a DD.
Panache
This British brand specializes in large bust swimwear--their Portofino and Anya one-pieces go up to a K cup--and their styles are readily available in the United States. Our top pick for the season is the Ceylon High Neck Bikini.
Leah from Hourglassy says it is "easily the most sophisticated bikini I've ever owned! More importantly, the fit is amazing!" Because the bra portion provides all the support and the halter ties are merely decorative, there's no neck strain. Another perk? "The mesh halter tucks in any loose side-boob or armpit fat." If bikinis aren't for you, the one-piece version is equally elegant.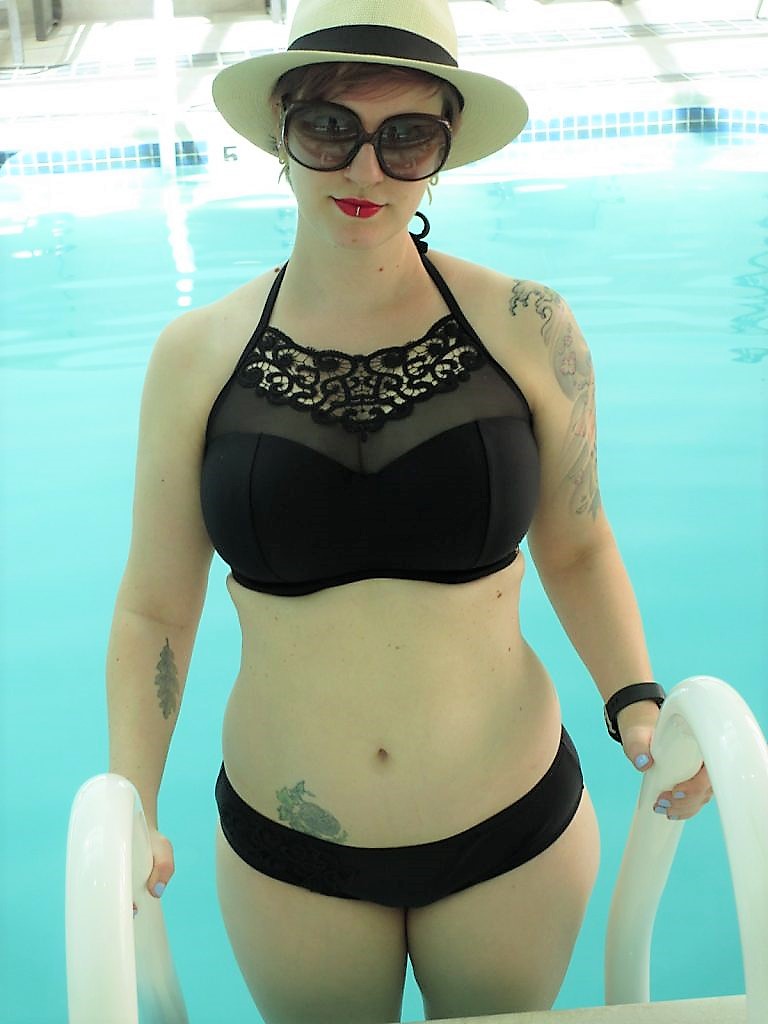 [Be sure to click the tiny "read more" link below for the rest of our fabulous finds!]
Fantasie, Freya and Elomi from Eveden
Eveden is another great British company producing bra-sized swimwear for busty women. After Levana Bratique hosted an Eveden swim event in Pittsburgh this month, owner Judy Masucci told us the Fantasie Ottawa twist front tankini and full-cup bikini top were her full-busted clients' favorites. With the familiar feel of a bra, they're so comfortable that there's no giving them a second thought in or out of the water.
For Judy's full-bust AND full-figure clients, "the Elomi Indie halter tankini with strapless swim bra is AMAZING!" She told us that the swim bra is "better than any strapless bra I've ever worn!"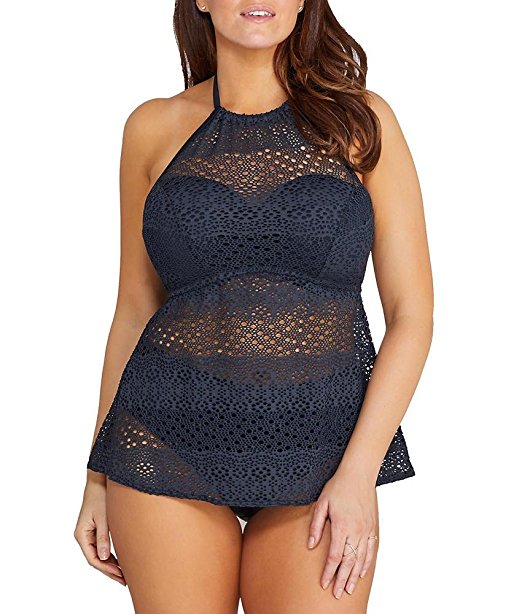 Prima Donna
This Belgian lingerie company entered the swimwear market a few years ago and quickly became a gold standard in bra-sized swimwear. As Kim Berger from Lion's Lair puts it, "Once a customer tries the garment on, they recognize the quality, comfort and superior fit. It's kind of like driving a Mercedes. You don't question the price, the product speaks for itself."
Asked which style our readers should order from Lion's Lair before it sells out, she replied, "The Joy white is the most perfect white suit ever. Its textured fabric prevents show-through when wet and the black binding stops the edges and straps from looking dingy."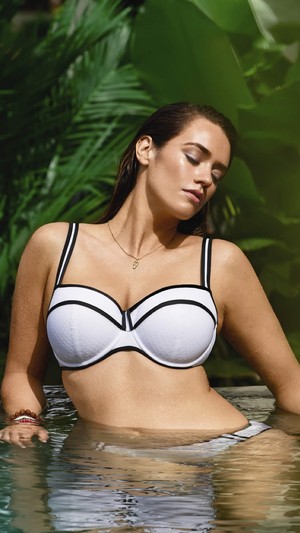 Curvy Kate
This British brand is known for pushing the limits in high cup sizes. While many companies stop at a G cup in padded styles, you can find the popular Maya balcony bikini below in a K.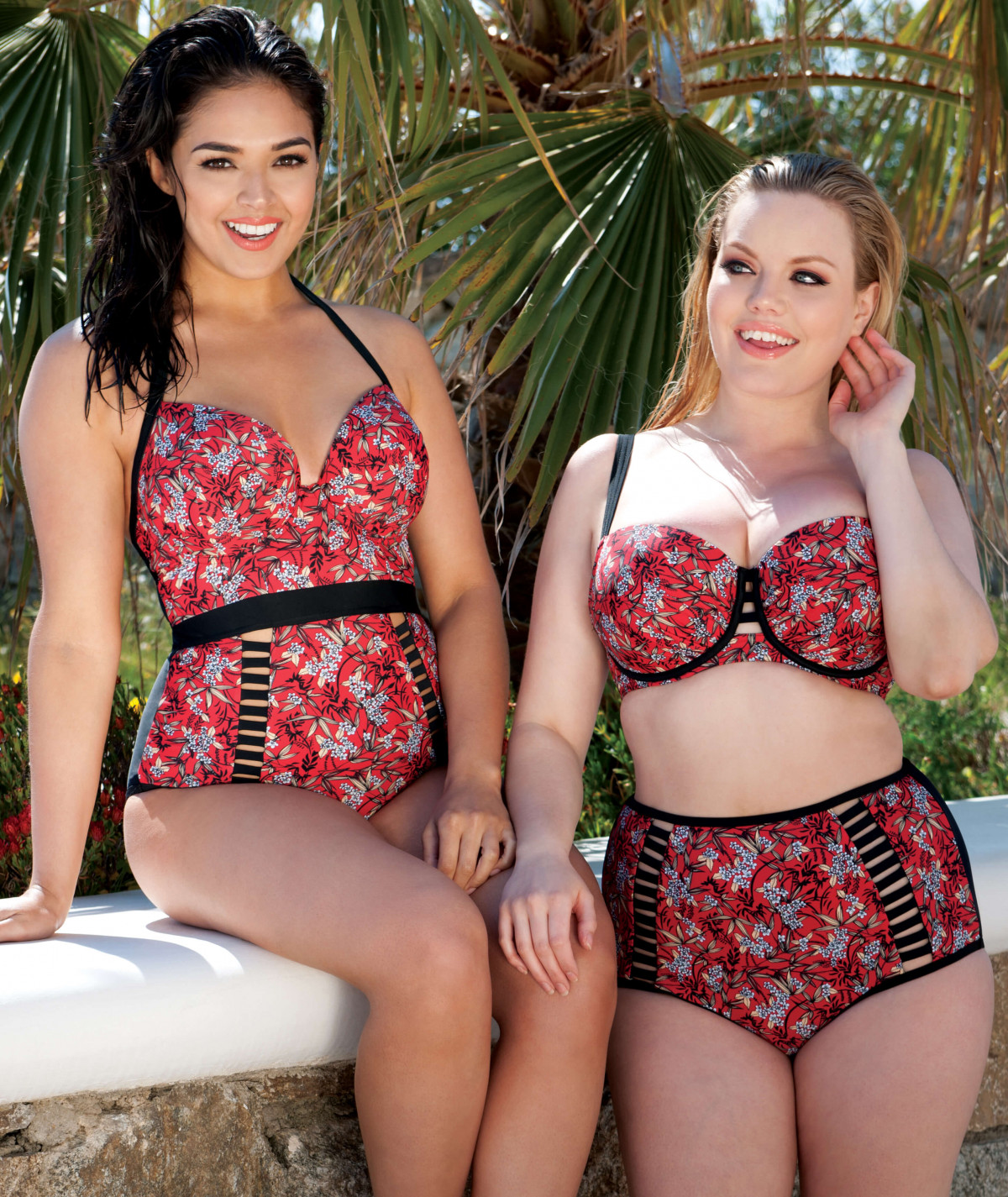 With its lime accents, we're especially looking forward to the AW18 version of the Maya that we saw at Curve in February. It will be in the darker navy swatch that you see in the upper left corner of this picture.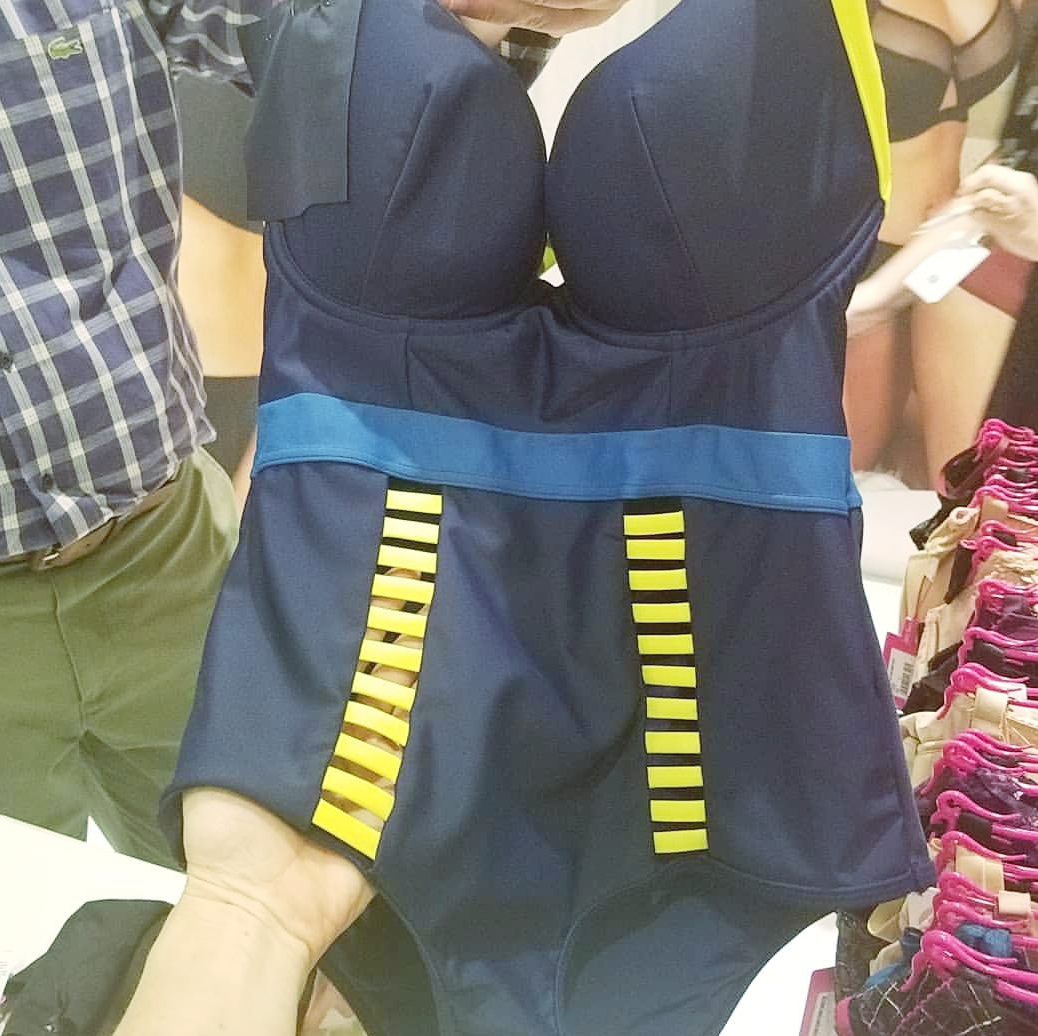 Miss Mandalay
If you're looking for something bra-sized that isn't bra-like, this British brand pioneered the triangle cup for busty women. Don't be deceived by the model in these photos--halter bikini tops like the Hills on the left and the Icon Strappy on the right go up to a GG cup.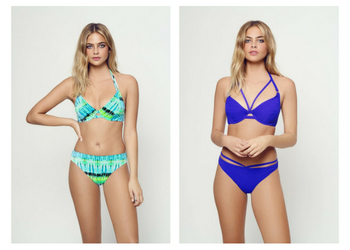 Marvell Lane
This Australian newcomer is making a bold splash into the full-bust pool with ultra-cleavage-y pieces that look super stylish. Our customer who wears a 10L in Campbell & Kate's buttondown shirts for busty women found the ruffle detailing and bows "perfect for my classic girly style", and she felt secure in the Ava top in 32H despite its plunging center gore. You can read more about the Ava (and Panache and Curvy Kate!) in her Hourglassy review.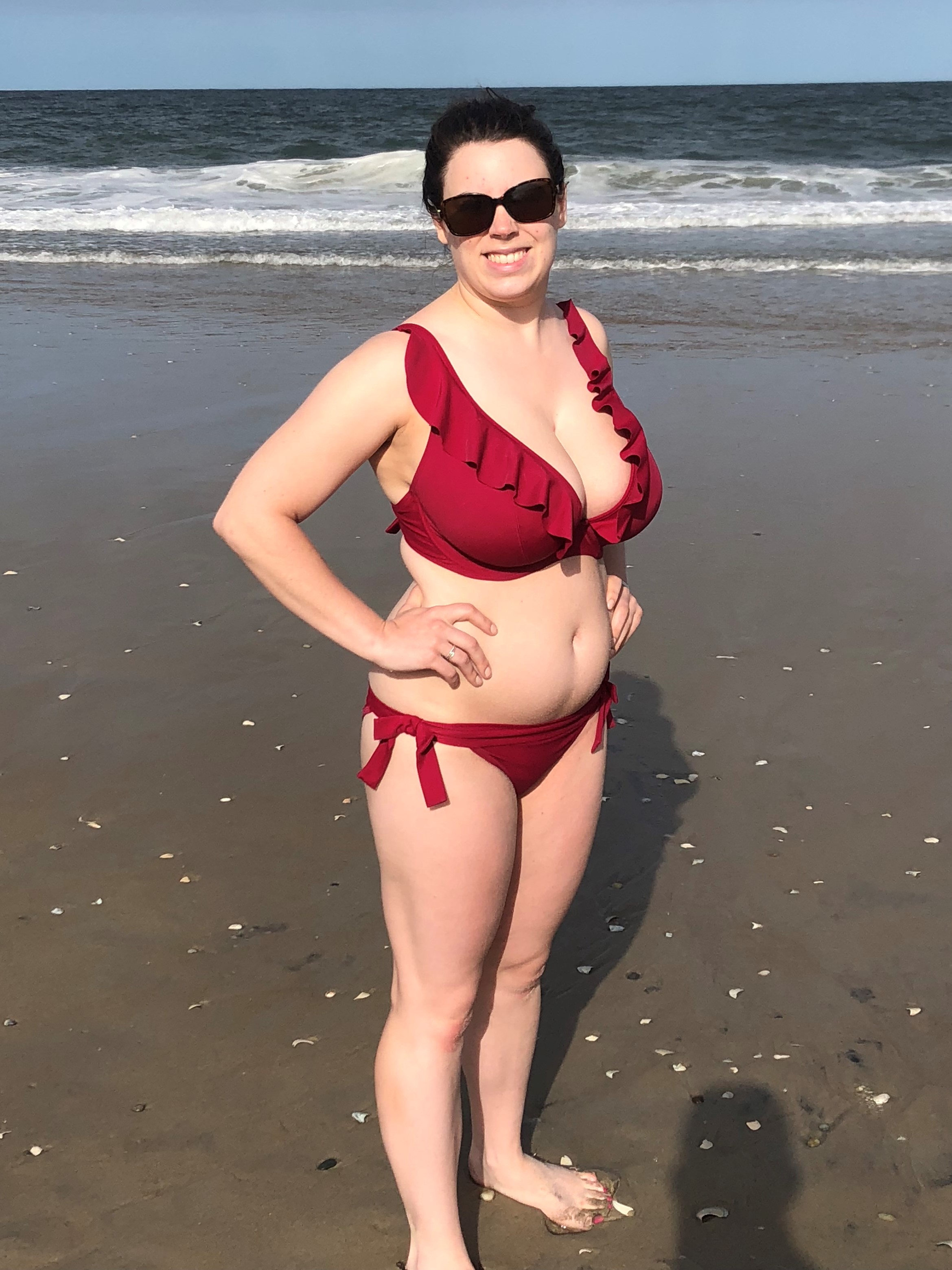 Lilly & Lime
Now in its second season, this Australian company is offering bust-friendly pieces that you can't find anywhere else, including this very un-plunging cap sleeve one-piece geared for high activity. Available to a G cup, we're impressed with the functional yet decorative back strap. Lilly & Lime is also offering fully zippable rash guards for big-busted women!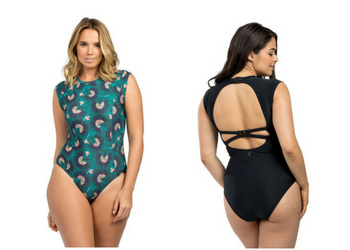 BUDGET-CONSCIOUS BIG BUST OPTIONS
ASOS/Wolf & Whistle
This partnership is popular with the budget-conscious, as evidenced by the almost sold-out zip top. You'll find some especially daring options when you search "Wolf Whistle Fuller Bust Swim" on the ASOS website.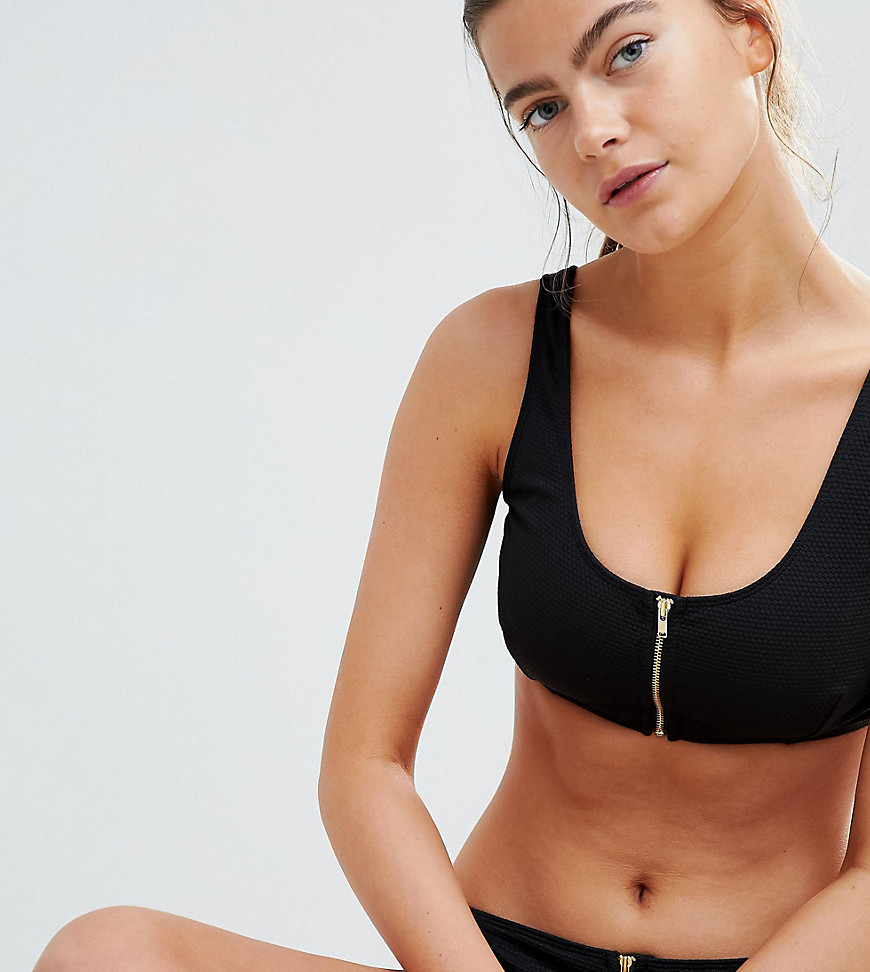 Pour Moi
When this British brand hit U.S. shores a few years ago, busty women who were sized out of Victoria's Secret finally had more options. How could we resist sharing their zipper top here?
Lepel
Known for its affordable and contemporary styles, the Paradise long line is our favorite Lepel style this season. Heartbreak warning: it's mostly sold out on Amazon, and there are only a few more sizes available on the company website.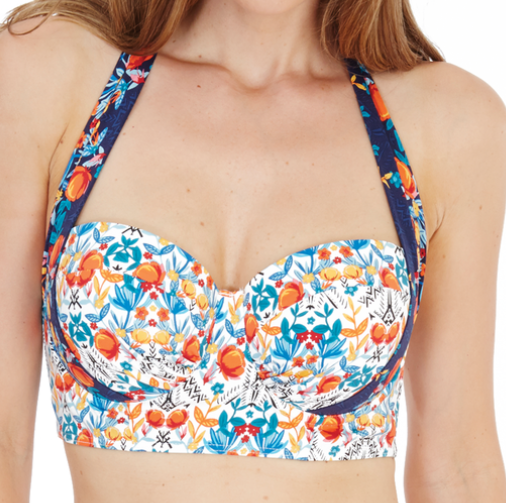 IN-HOUSE BRANDS
Bravissimo
Besides carrying many of the brands we've already listed, this British retailer is building a great reputation with its own brand. An added bonus: the many reviews on their website are detailed and candid.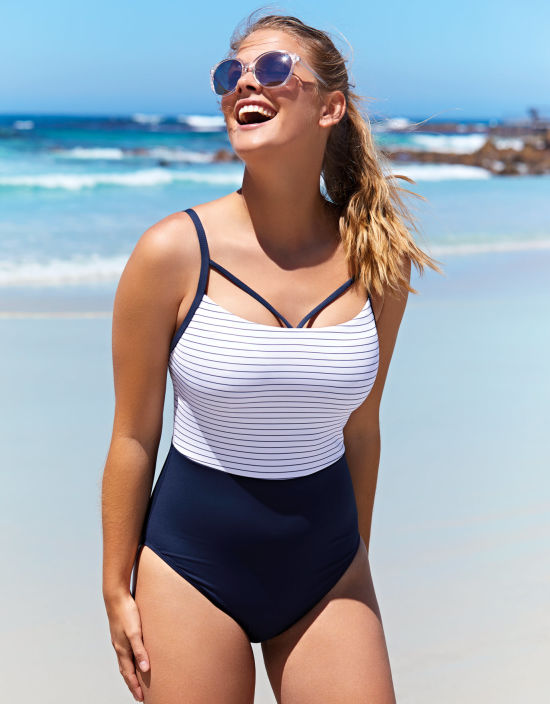 Figleaves
With a long history as an online retailer, this company was well-positioned to create its own line of swimwear because it knew what its customers were looking for. The Icon Spot Mesh is one of their "most loved". Want something brighter? The almost 5-star Frida sold out last summer and is now back in stock.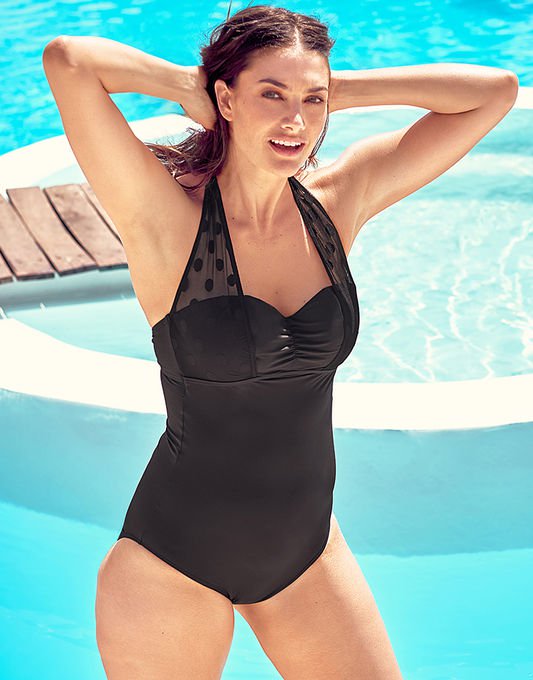 Raq Apparel
Finally, we're keeping our eye on yet another Australian newcomer. While they currently only offer a black triangle bikini top, we love the attitude on their website: "At RAQ, we know firsthand (well, two pretty big hands full, actually) that it's not easy to find flattering and comfortable swimwear when you have a big rack. That's why we created RAQ; for stylish, active, busty women who want to feel confident and supported in a bikini."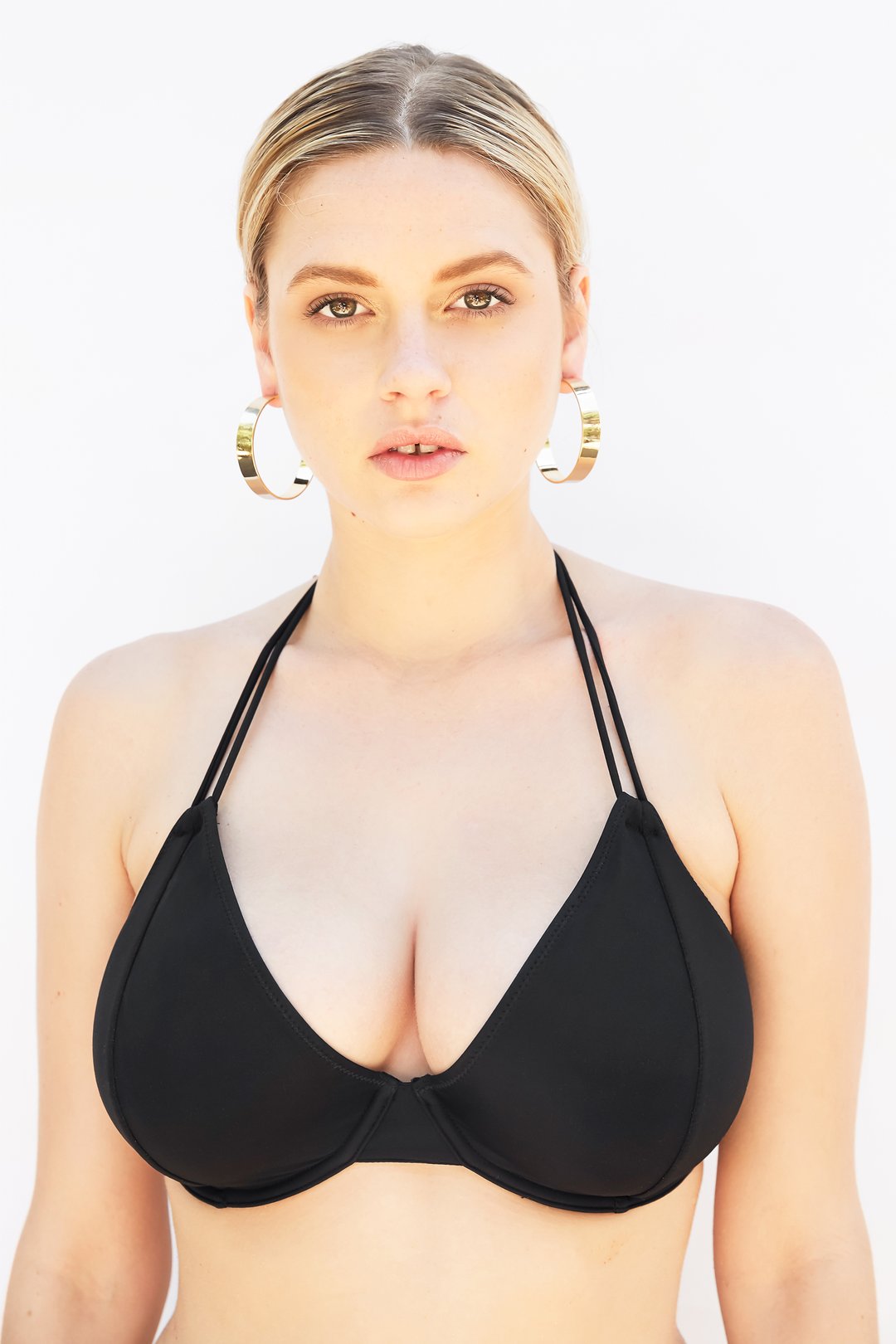 (Disclosure: The Amazon and Asos links in this post may result in commissions to Campbell & Kate.)