08/04/2011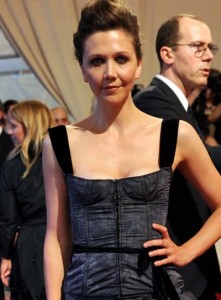 A couple of days ago, I wrote on Hourglassy about my Affinitas Parfait cami discovery. Since I have always loved the corset look, this lingerie-as-outerwear option in 30D-H through 40D-H had me super excited.
A Twitter conversation with one of my readers followed. She asked, "But would you actually wear it as outerwear? It still looks too much like a bra to me."
My answer: "Under a jacket def. I'd have to see it on to know if I'd wear alone w/ a skirt."
Her response: "Hmmm. It's the seaming in the cups that holds me back."
Me: "Perhaps also the obvious underwires . . . ."
Her: "Maybe no other way to get support in satin, but I haven't seen B cups wearing something like this."
Which of course got me thinking: Can a large busted woman expect to be able to wear everything that a smaller busted woman wears?
I'd like to think the answer is yes. After all, that belief is what kept me going through the creation process for Campbell & Kate shirts. Many people told me that women with a large bust simply shouldn't expect to wear a classic woven button-front. It was the Kate in Campbell & Kate who told me otherwise (more on Kate in a later post).
Of course some adjustments must be made for this to happen. The Parfait cami is a good example of what must happen in order for a D cup and up woman to be able to wear something like Maggie Gylenhaal's dress in the photo above. And the features page of this website gives you a good idea of why a D cup and up woman can wear my classic woven button-front.
The next question, however, is, "Should a large busted woman wear everything that a smaller busted woman wears?" The answer to that question is a lot more complicated. As my Twitter partner wrote to me in a later email,
I will never be able to wear swing tops or those balloony tops because I need to have my waist and chest more or less defined to balance everything out and make me look slender and thin. And I know that I'll look better in a sweetheart neckline than [a B cup] will . . . . But I think I try to take what is cut for a B cup and search for modified options for the D+ cup.
Your own answer to this question depends on you. What is your style? What mood are you in? What do you want to draw attention to or away from? With its versatility, a classic white Campbell & Kate shirt can be part of your answer to each of these questions.
And when a classic white shirt isn't enough? Thank goodness for other companies like Parfait that are creating exciting options for women who wear D cups and higher.